Cycle safety advert banned for depicting rider with no helmet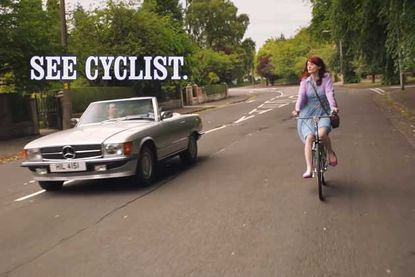 A television advert created by Cycling Scotland calling for greater awareness of cyclists on the roads has been banned by the Advertising Standards Authority (ASA) because it shows a cyclist not using a helmet.
The ASA branded the advert as 'socially irresponsible' in its ruling because one scene shows a woman riding a bike with no helmet as a car passes her, despite it not being a legal requirement. Other cyclists in the light-hearted advert do wear helmets.
"We considered that the scene featuring the cyclist on a road without wearing a helmet undermined the recommendations set out in the Highway Code," said the ASA.
"Furthermore, we were concerned that whilst the cyclist was more than 0.5 metres from the kerb, they appeared to be located more in the centre of the lane when the car behind overtook them and the car almost had to enter the right lane of traffic. Therefore, for those reasons we concluded the ad was socially irresponsible and likely to condone or encourage behaviour prejudicial to health and safety."
The ASA has ruled that the advert cannot be shown again 'in its current form' and that it had stipulated that all future adverts should feature cyclists wearing helmets and that they should be 'placed in the most suitable cycling position'.
Final scene from the banned Cycling Scotland campaign advert
Cycling Scotland has said that it will appeal against the decision:
"We are disappointed with the adjudication of the ASA Council and the statement that future ads should always feature cyclists wearing helmets. Our guidance on the issue of helmets and safety attire for adults on bicycles mirrors the legal requirements set out for cyclists in the Highway Code.
"There is a broad spectrum of research and opinion across the road safety and health communities when it comes to issues relating to helmet use and the ad reflected this diversity by showing cyclists both with and without helmets," said Cycling Scotland in a statement.
"The advert was produced in close consultation with an experienced cycle training instructor who carefully considered the use of road positioning and safety attire required for cycling in the daytime. The road positioning in the advert complies with the National Standard for cycle training, which is referenced within the Highway Code.
"The driver of the car in the advert also follows the Highway Code, which states that vulnerable road users, such as those on a bicycle, should be given at least as much space as you would give a car when overtaking.
"Cycling Scotland fully intends to pursue the ASA Council's Independent Review process open to us."
National cycling charity CTC's Chief Executive Gordon Seabright said: "The ASA's ill-advised decision shows a misunderstanding of common cycle safety issues and risks undermining the promotion of cycling as a safe and normal activity."
Watch the full advert below (while you can...)
Thank you for reading 20 articles this month* Join now for unlimited access
Enjoy your first month for just £1 / $1 / €1
*Read 5 free articles per month without a subscription
Join now for unlimited access
Try first month for just £1 / $1 / €1