Aussie Tomic takes women's Omnium title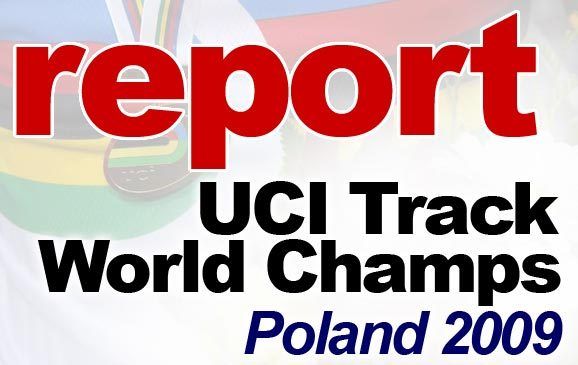 The Hub - Home for all CW's track worlds coverage
Saturday's live coverage>>>
Australia's Josephine Tomic gave the team in green and gold a huge boost in their bid to top the medal table at these championships by winning the women's Omnium on Saturday.
Tomic's was Australia's third gold of the week, and gave them a great chance of edging out the British and French at the head of the table.
Britain's Anna Blyth did well in her favoured sprint events, but struggled in the scratch race, although she looked a lot better in the second bunch race, the points race.
The Omnium consists of five events, with riders scoring the same number of poinst as their finishing position in each race. So, five first places would give a final score of five points. Five second places would give a score of 10 points. Lowest points total wins.
Final overall standings, top 10
1 Josephine Tomic (Aus) 26pts
2 Tara Whitten (Can) 27pts
3 Yvonne Hijgenaar (Ned) 27pts
4 Elisa Frisoni (Ita) 28pts
5 Lesya Kalitovska (Ukra) 29pts
6 Vilija Sereikaite (Lit) 34pts
7 Dalila Rodriguez Hernandez (Cub) 39pts
8 Renata Dabrowska (Pol) 40pts
9 Lada Kozlikova (Cze) 44pts
10 Anna Blyth (GB) 44pts
Sprint 200m time trial results, top 10
1 Yvonne Hijgenaar (Ned) 11.400
2 Anna Blyth (GB) 11.552
3 Elisa Frisoni (Ita) 11.622
4 Vilija Sereikaite (Lit) 11.800
5 Tara Whitten (Can) 11.882
6 Josephine Tomic (Aus) 11.942
7 Lada Kozlikova (Cze) 11.981
8 Renata Dabdowska (Pol) 12.015
9 Lesya Kalitovska (Ukr) 12.139
10 Olga Slyusareva (Rus) 12.214
Scratch race, top 10
1 Tara Whitten (Can)
2 Lesya Kalitovska (Ukr)
3 Renata Dabrowska (Pol)
4 Gema Pasual Torrecilla (Spa)
5 Dalila Rodriguez Hernandez (Cub)
6 Elisa Frisoni (Ita)
7 Yvonne Hijgenaar (Ned)
8 Josephine Tomic (Aus)
9 Andrea Botero Coy (Col)
10 Charlotte Becker (Ger)
16 Anna Blyth (GB)
2,000m individual pursuit, top 10
1 Vilija Sereikaite (Lit)
2 Tara Whitten (Can)
3 Renata Dabrowska (Pol)
4 Gema Pascual Torrecilla (Spa)
5 Lada Kozlikova (Cze)
6 Charlotte Becker (Ger)
7 Kaytee Boyd (NZ)
8 Dalila Rodriguez Hernandez (Cub)
9 Yvonne Hijgenaar (Ned)
10 Anna Blyth (GB)
Points race, top 10
1 Josephine Tomic (Aus) 10pts
2 Dalilia Rodriguez Hernandez (Cub) 6
3 Elisa Frisoni (Ita) 6
4 Charlotte Becker (Ger) 5
5 Juan Ciao Xiao (HK) 4
6 Lesya Kalitovska (Ukr) 4
7 Gema Pacual Torrecilla (Spa) 3
8 Renata Dabrowska (Pol) 3
9 Yvonne Hijgenaar (Ned) 2
10 Olga Slyusareva (Rus) 1
14 Anna Blyth (GB) 0
500m time trial, top 10
1 Yvonne Hijgenaar (Ned)
2 Anna Blyth (GB)
3 Elisa Frisoni (Ita)
4 Vilija Sereikaite (Lit)
5 Lada Kozlikova (Cze)
6 Renata Dabrowska (Pol)
7 Josephine Tomic (Aus)
8 Tara Whitten (Can)
9 Lesya Kalitovska (Ukr)
10 Charlotte Becker (Ger)
2009 UCI TRACK CYCLING WORLD CHAMPIONSHIPS
Follow Cycling Weekly on Twitter>>
RACE REPORTS
The CW Hub: Track World Championships index
Women's points race: Armitstead proves she's a future champion
Women's keirin
Men's omnium
Men's Madison: Danes win as Kennaugh hits the deck
Women's sprint: Pendleton wins fourth title
Women's omnium
Women's scratch race: Silver for Armitstead
Men's kilo TT: Nimke beats Sir Chris's kilo record to take gold
Men's team pursuit: Britain get fourth
Women's team pursuit: Britain clinch gold
women's team sprint: Reade and Pendleton score silver
Men's scratch race: Cavendish marked out of contention
Men's individual pursuit: Phinney wins gold
Men's team sprint: France beat Britain
Men's Points Race: Newton gets bronze
Women's individual pursuit: Houvenaghel beaten to silver
500m TT: World record for Krupeckaite, bronze for Pendleton
NEWS AND FEATURES
Track worlds day four summary: Sensational Pendleton digs deep
Track worlds day three summary: Armitstead again
Track worlds day two summary: Golden girls deliver
Track worlds day one summary: steady start for team GB
Why there's no Brit in the individual pursuit
No individual pursuit for Britain at track worlds
No room for complacency in British Cycling: Iain Dyer interviewCavendish in the frame for Scratch race world title bid
2009 Track Cycling World Championships preview
Crampton set to fill Sir Chris Hoy's team sprint spot
2009 World Track Champs GB squad named
Hoy to miss world track champs
Track World Championships: British medal winners
CW's Dummies' Guide to Track Racing
PHOTOS
GB RIDER PROFILES
Men
Jonathan Bellis
Steven Burke
Mark Cavendish
Ed Clancy
Matt Crampton
David Daniell
Ross Edgar
Jason Kenny
Chris Newton
Jamie Staff
Women
Lizzie Armitstead
Wendy Houvenaghel
Victoria Pendleton
Shanaze Reade
Joanna Rowsell
Jessica Varnish
RECENT RESULTS
International track results last season: 2007-2008
International track results this season: 2008-2009
2008 TRACK WORLD CHAMPIONSHIPS LINKS
Full results from the 2008 track worlds
Report: Sunday, day five>>
Report: Saturday, day four>>
Report: Friday, day three>>
Report: Thursday, day two>>
Report: Wednesday, day one>>
EXTERNAL LINKS
Track Cycling World Championships 2009 official website