Behind the scenes at Team Sky's Christmas party, and more cycling videos of the week
Sir Dave Brailsford dressed as Father Christmas and riders eating a normal meal, Team Sky give the fans a look at their Christmas party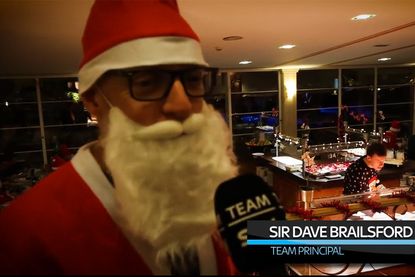 Even pro riders get to enjoy a decent Christmas meal it seems, as we're shown by the insider's view of Team Sky's Christmas party.
Sir Dave Brailsford makes an appearance as Father Christmas, no doubt dishing out presents in the form of which races his riders will take on in 2016 - and in some cases which they'll get to ride as team leader.
>>> Chris Froome described as "close to human peak" after physiological data release
Staff and riders all come together for the meal and celebrate what has been a pretty good year for the British team, even by their own high standards.
Fat bike trail skills
https://www.youtube.com/watch?v=prdPxW3fk_w&feature=youtu.be
Motorcycle trials rider Pat Smage turned his hand to fat biking, and this is the impressive results.
Riding his local woods he found some lines to try and seems to be having fun doing it.
Banish neck pain
Aches and pains can crop up for some cyclists so this Cycling Weekly video shows five exercises that will help loosen up tights muscles.
Some discomfort on the bike can be a sign of a poor fit, so have a look at our handlebar height and saddle height pages to get yours spot on.
Group riding: essential hand signals
Group riding is a great way to find new route and new friends, and is how many of us spend our weekend mornings.
Even if you're not part of a club, if you live somewhere with plenty of other cyclists then the chances are you will find yourself riding in a group situation at some point.
It pays to know what the signals the other riders are making mean and how to indicate hazards to those around you.
Father Chris-mas assembles a bike
https://youtu.be/VNZgVbveqpc?t=19s
We started on a Christmassy video, so here we end on one too.
Father Chris-mas Hoy is challenged to put one of his own brand bikes together in five minutes; can he manage it?
Thank you for reading 20 articles this month* Join now for unlimited access
Enjoy your first month for just £1 / $1 / €1
*Read 5 free articles per month without a subscription
Join now for unlimited access
Try first month for just £1 / $1 / €1