Bennati: A sprinter and a gentleman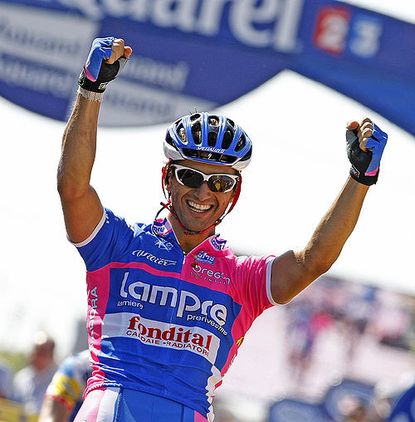 Cycle Sport's Big Read 2009 Cycle Sport's Stephen Farrand allowed Italy's sprinter Daniele Bennati to take him to the heart of a bunch sprint

This appeared in the April 2009 issue of Cycle Sport
Meet Daniele Bennati, the nicest guy in the peloton. He's the kind of cyclist thousands of female fans would just love to take home to introduce to the parents.


Bennati wins a lot. He's good looking. He's quiet, generous, friendly, popular with his peers and rivals, and gentlemanly. In short, he'd make us sick, if he wasn't too nice to do so.
But there's a vein of steel running through Daniele Bennati. This nice guy doesn't finish last.
"You might be surprised but I get fucking angry when riders try to take me out in a sprint," he tells Cycle Sport.
Did Daniele Bennati just swear? As a devout catholic, that one is going to mean at least an extra 'Hail Mary' come confession time, but dangerous riding in the final kilometre makes Bennati see red. And he doesn't care if swearing about it helps him to make his point. You know that he means it.
"I prefer to be described as the gentleman rather than the 'bandito' like some riders," he explains.
"Some riders don't seem to care that if they cause a crash and don't worry that if we all go down, we all get hurt. That makes me mad and the only time I get angry is when some one takes far too many risks in a sprint. I like the adrenaline rush of sprinting and I like to win but I'd rather lose a sprint than fight for a wheel. I'd rather touch the brakes than take a huge risk and crash."
"I love it when the sprint is fast and simple, when the fastest rider wins by showing their pure speed. That's what sprinting is all about to me."
Deciding who is the best sprinter in the world is not just a matter of results. Sprinting is primarily about crossing the line first, but there are aesthetic considerations as well. Sprinting beauty is in the eye of the beholder, and is sprinters come in different shapes, sizes, skills and abilities.
Robbie McEwen is a sprinting acrobat who finds his way to the front and then blasts away to victory with incredible acceleration. Spain's Oscar Freire is a self-sufficient street smart. Thor Hushovd, Alessandro Petacchi and Tom Boonen are the big centre forward sprinters, all muscle and power, who need a lead out train to be launched towards the finish line at high speed. Mark Cavendish is perhaps the purest of them all, with scintillating acceleration, brains and reflexes.
And then there is Daniele Bennati. At almost six foot, and weighing 76 kilograms, he has won stages in all three Grand Tours. He's more of a Petacchi or Boonen than a Cavendish, preferring high-speed sprints where he can come off a lead out and use his power. He's got the rare distinction that in 2008 he was the only sprinter to really dominate Mark Cavendish, at the Giro, taking three stages against the Manx sprinter's two.
"I'm as fast as Petacchi and consider myself to be a lot like Boonen, even if I haven't won the classics he has," Bennati says.
"I'm not a sprinter who likes to emerge from a scrum. I like a clean sprint that is launched at a high speed because a clean sprint shows who is really the fastest. I'm at my best when we're at 65km/h in the final five hundred metres and then have accelerate at to over 70km/h at the line."
And the numbers are incredible. "My personal record in a sprint is 73.8km/h at the Tour of Poland in 2006," says Bennati. "That's about 150 metres in seven seconds. Just afterwards in training I put out 1680 watts and so in the sprint in Poland, I was probably over 1700 watts."
Bennati has won 36 races since first turning professional in 2002. It could have been a lot more without a few injuries along the way, but as he points out, he has already beaten every other big-name sprinter at least once. Sprinting is as much about mental domination as physical domination, and it's massively important to beat rivals regularly. Once a sprinter has got inside the head of another, it's worth a ninth man in the lead-out train.
Bennati comes from Arezzo, in the heart of Tuscany and cycling has always been the family sport. Both his father and older brother raced as amateurs and his parents even went to see the Giro d'Italia during their honeymoon.
The Del Tongo kitchen manufacturer is based in Arezzo and Bennati grew up admiring the legendary yellow and blue jerseys that local hero Franco Chioccioli, Giuseppe Saronni and even Mario Cipollini wore in the late eighties and early nineties. Bennati raced for the Polisportivo Albergo Del Tongo schoolboy team before joining the powerful Grassi-Mapei under 23 squad that also launched Paolo Bettini.
He turned professional with the Acqua & Sapone team in 2002 at just 21 thanks to winning a stage at the prestigious Giro delle Regioni. The fact he came from Tuscany and his links to Del Tongo convinced Mario Cipollini to take Bennati under his wing at Acqua e Sapone giving him a fast track sprinters apprenticeship
"21 is fairly young to turn pro but it wasn't a problem for me because I was able to handle it and was quickly given a protected role in Cipo's lead out train," he says.
"I had to lead the final train in the last couple of kilometres so that Mario Scirea and then Giovanni Lombardi could give Mario a high-speed lead out. At the time Acqua & Sapone was like the university of sprinting. Mario was the professor and I was a first year student. I can remember being scared to even speak to him at the first training camp but he taught me a lot about sprinting, especially how to hold my position and stay in control even at 70km/h."
Bennati helped Cipollini win many of his 14 victories in 2002 and he had learned enough to win two sprints himself at the Tour of Austria and the Regio Tour.
In 2003 he also won a stage at the Tour of the Mediterranean and the Tour of Poland but when the Domina Vacanze team went into meltdown because of financial problems, Bennati decided to join the rapidly growing Phonak team in 2004. It was a good financial move but also marked the start of a long list of injury and illnesses that stand out in his career almost as much as his victories.
After missing most of 2004 due to injury, Bennati returned to Italy and signed with Lampre. Since then he has won stages in all three major Tours, including on the Champs Elysees in Paris and in Madrid at the end of the Vuelta. But he has also missed Milan-San Remo and the cobbled classics several times due to illness. He only raced for three months in 2008 because of a knee problem between January and April and an inflamed Achilles tendon in June and July. It is no wonder he always visits Lourdes during the Tour de France.
"It's really tough when you get one problem after another. Fortunately I've had the support of my wife and family. And my faith has obviously helped when I've been injured," Bennati says.
"Everyone has to go through a major injury or perhaps a broken collarbone during their career but when they start to stack up, it gets harder and harder to get back to your best. You need a lot of determination to start all over again and gradually work on your form during the season. It's really frustrating when you can see everybody else racing and winning and you're at home visiting the physio or suffering in training."
Bennati has always made a full recovery. He only had 3300km in his legs at the start of last year's Giro d'Italia but still managed to win three stages.
Bennati knows 2009 will be an important season if he is to finally leave his problems behind. He also knows it's going to be a complicated one. Along with everybody else, he has to work out how to beat Mark Cavendish, whose confidence and speed are already approaching a zenith.
"Cavendish is a grande corridori," Bennati says.
"I've got a lot of respect for him. He's quickly earned his place in the group of the best sprinters in the world without causing problems. He was impressive at the Giro and was even better at the Tour. I just hope he doesn't get any better...."
Cavendish and Bennati were superior to the other sprinters in last year's Giro and it was a breathtaking battle between Bennati's long and powerful surge and Cavendish's high voltage late burst of speed.
"I won more stages but in the head to head sprints, where we really went shoulder to shoulder, it was a 1-1 draw. I won in Carpi on stage 12 and then he beat me the next day in Cittadella," Bennati concedes.
Cavendish came from behind and almost beat Bennati in Carpi but he got it with a perfectly timed throw at the line. The photo finish showed he won by five centimetres, a tiny margin that was calculated to be a time difference of just three hundredths of a second.
Bennati had decided to lead out the sprint through the final corner after closely studying the race manual before the stage. The corner was 200 metres from the finish line but he preferred to spend more on the front than fighting for a wheel.
"I know some people think I only won that day because Cavendish was a bit too far back but that's only a small part of the story," Bennati points out.
"It's true he closed the gap with a great burst of speed and almost beat me at the line but it's also true that I did a really long sprint. If you watch it on the internet, you can see I went with at least 300 metres to go. Cavendish had a huge advantage coming off my wheel but I won because he didn't have the final speed to get past me."
One-nil to Bennati. But Cavendish was clearly faster in the final hundred metres and used his speed to win the revenge match, the very next day in Cittadella.
The finish was very similar to Carpi with a wide sweeping left curve launching the peloton into a wide finishing straight.
Bennati again led out the sprint but this time Cavendish made sure he was right on his wheel after some help from team-mate Andre Greipel.
When Bennati started his sprint, Cavendish moved to pass him on the right along the barriers. Bennati squeezed him slightly and for a second it seemed that he would close the door on his younger rival. But then he moved away to the centre of the road and Cavendish was able to blast clear to victory.
In the unwritten rulebook of sprinting, the legitimacy of closing the door on another rider is a grey area. In this case, Bennati was in front, and he didn't need to swing in front of Cavendish - just assertively holding his line would have been enough. But as he points out, he's no bandito.
"I obviously don't like losing but I prefer losing honestly than winning by doing something dangerous," he says.
"If Cavendish had crashed and brought down half the bunch I wouldn't have been able to look at myself in the mirror."
Cavendish stopped to thank Bennati for letting him through the gap even before he climbed on the podium and described him a true gentleman in what is usually a cutthroat moment. Cavendish also admitted that he might not have done the same thing but promised to one day return the favour. There's no fair play award in cycling, but if there was, Bennati would get it.
Bennati watched with envy as Cavendish dominated the sprints at the Tour de France, while he was struggling with his fragile Achilles heel. He noticed how Columbia worked on and improved their lead out train stage after stage but also has enough evidence to know how to beat Cavendish this year.
"He's very fast in the last 100 metres so you've got to anticipate his acceleration and hope that you surprise him and get a gap," he reveals.
"Another solution is to make sure the sprint is launched at a extremely high speed so that when he comes off your wheel he struggles to kick any faster. It has to be up to at least 70km/h, so he can't accelerate and up the speed even more."
During the winter Bennati has laid down a solid base of miles at Liquigas training camps in Spain and Tuscany and on his local roads around Arezzo. He has carefully worked on strengthening his core and especially his left leg, which was affected by both his knee and Achilles injuries. He has already started doing speed work behind his dad's car when at home and upped his strength with intense intervals work on gradual climbs near his house.
He is confident that if he stays healthy, he could finally confirm himself as the best sprinter in the world, Cavendish or no Cavendish.
Cavendish started his season in Qatar and then will ride the Tour of California. Bennati's race programme includes the Challenge Mallorca, the Giro di Grosseto and the Giro di Sardegna. They won't see each other until Tirreno-Adriatico on March 11. Remember the date and set the recorder. It's going to be one of the most important sprints of the year.
A QUESTION OF FAITH
Daniele Bennati is deeply religious but it is something he does not like to talk about.
He admits to admiring AC Milan football player Kaka, but he is not part of the 'I Belong to Jesus' association. Questions about his faith are gently but firmly refused.
"I've already talked about my religion perhaps too much. It's something I consider very personal and so I don't like to talk about in public," he says.
"All I'll say is that religion is very important to me. It's helped me when I had problems. It gives me a lot of self confidence in races and helps me handle the pressures of racing."
BENNA AND CIPO
Mario Cipollini has always had a soft spot for Daniele Bennati even though the two have very different characters. Cipollini describes Bennati as his 'cycling son' because he taught him the secrets of sprinting at Acqua e Sapone.
"When he first turned professional with us in 2002 he was shy and seemed a bit lost but I took him under my wing because we have the same manager and because he is from Tuscany," Cipollini says.
"He's been nicknamed the panther because his sprint is really elegant and powerful. He's often compared to Tom Boonen but Daniele is a better climber when he's on form and his sprint is a lot classier. Boonen stomps all over his bike while Bennati is a lot smoother without losing any power."
"I sometimes wish he was more aggressive and I certainly wouldn't have let Cavendish come through the gap in the Giro sprint but that's the way Daniele is and it'd be wrong to change him. He's one of the good guys."
"He's had some problems but I think he's learning how to get the best out of himself without getting ill or injured. Hopefully he's back to his best after a solid winter and we'll soon see if he can hold off Cavendish in the final hundred metres of a sprint."
Daniele Bennati was about to set off for a final Liquigas training camp in Spain when he sat down with Cycle Sport. Immediately afterwards he faced another week at the Challenge Mallorca and then will spend most of the spring away at races until taking his first break after Ghent-Wevelgem.
All the time away means he will have little chance to see his six-month old son Francesco and that seems to be as difficult as any of his comebacks from injury.
"I didn't think it'd be so difficult to set off for a long camp or block of racing, knowing I won't see him for a few weeks but it is. He doesn't notice at the moment but it's hard for me," he says.
"The joy having a child is incredible. It's meant huge changes in my life but it's definitely a change for the better."
"I'm lucky because even though Francesco's teeth are starting to come through, he's really good and sleeps pretty well, so it hasn't affected my training. Anyway Chiara is the one who has to get up because he's still breast-feeding. There's not much I can do to help with that and so I go back to sleep."
DANIELE BENNATI'S CAREER
2002 Acqua e Sapone
Best result: stage win at Regio Tour
Bennati turns professional at just 21, immediately getting a coveted place in Mario Cipollini's lead out train. He is able to ride for himself in the summer and wins a stage at the Tour of Austria and a stage at the Regio Tour in Germany.
2003 Domina Vacanze
Best result: stage win at the Tour of the Mediterranean
Cipollini's year in the rainbow jersey is one long party, leaving little room for Bennati, but he continues to do learn the ropes by leading out the sprints and wins a stage at the Tour of the Mediterranean and the Tour of Poland.
2004 Phonak
No wins
Illness and injury means his year at Phonak is a total washout. Fortunately it means he gets out of the Swiss team before the doping scandals begin.
2005 Lampre
Best result: Giro di Toscana
Third place at Ghent-Wevelgem ahead of Hushovd and Pozzato shows Bennati's sprinting speed and winning the Giro di Toscana at home in Arezzo is a special victory. He ends what is a breakthrough season with three stages in the Tour of Germany and two stages at the Tour of Poland.
2006 Lampre
Best result:Win in Giro del Piemonte
Beating Petacchi and Boonen in sprints and scoring ten wins throughout the season confirms Bennati as one of the best sprinters in the peloton. However illness forces him to miss the Tour of Flanders and Ghent-Wevelgem.
2007 Lampre
Best result: Tour de France stage win in Paris.
The flu again wrecks his hopes in the spring classics and raises more questions about if he has the constitution to match his talent. He crashes in the Tour de France but shows character, carries on and wins a stage from a breakaway and then the sprint on the Champs Elysees. He also wins three stages in the Vuelta.
2008 Liquigas
Best result: three stage wins at the Giro d'Italia
Despite missing all of the spring classics with a knee problem, Bennati bounces back to win three stages and the points jersey at the Giro d'Italia. His is the only one able to take on a rapidly improving Mark Cavendish.
The cold and rain in the final week of the Giro inflame an Achilles tendon problem and forces him to miss the Tour de France. He recovers quickly to win a stage at the Eneco Tour and another at the Vuelta while wearing the leader's gold jersey
DID I SAY THAT?
"Me? A sex symbol? I didn't know... I suppose it's nice but my objective is to win races, not win a beauty contests."
On taking on Mark Cavendish in the Giro d'Italia and Tour de France sprints:
"There aren't many flat stages and so every sprint is going to be pretty special."
I extended my contract with Liquigas because I'm happy with everything about the team, including the arrival of Ivan Basso."
I won't have lead out train in the Giro because Liquigas is targeting the overall classification but I'll have four riders for the Tour to take on Cavendish's Columbia train."
On injuries:
I've been unlucky with injuries but I've been lucky in other moments of my life and so far the good times have helped me forget the difficult times."
"I know I can win sprints and points jerseys in major Tours. Now I want to be successful in the classics because I know can handle the pave and short climbs. Milan-San Remo, the Tour of Flanders and Ghent-Wevelgem are the big goals for the spring."
Thank you for reading 20 articles this month* Join now for unlimited access
Enjoy your first month for just £1 / $1 / €1
*Read 5 free articles per month without a subscription
Join now for unlimited access
Try first month for just £1 / $1 / €1