Bikes and beer: a Spin-Up in a Brewery
Dark Star Brewery in West Sussex hosts a celebration of bikes and beer, with rides, food, drink and roller racing on Saturday, May 23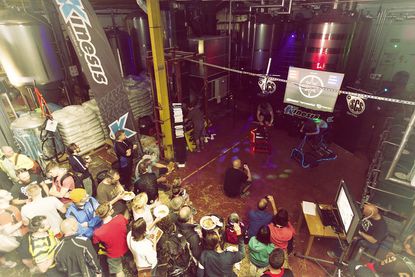 The fourth running of the unique Spin-Up in a Brewery event takes place this Saturday, May 23, at the at the Dark Star brewery in West Sussex.
Celebrating the almost perfect partnership of bikes and beer, the annual event is organised by the Dark Star Brewing Company and neighbours KinesisUK Bikes.
The afternoon kicks off with a barbecue and the option of heading out on a 'leisurely' road or mountain bike ride, and there's also a family-orientated ride too.
There will be a hotly-contested knock-out format roller racing competition, with many prizes on offer for those with the fastest legs.
Just a handful of tickets are left for the event as we write this.
The event is based at the Dark Star Brewing Co. Partridge Green, West Sussex RH13 8RA, and runs from 1-8pm on Saturday, May 23.
For more event information and details of how to obtain tickets for the event, visit the Spin Up in Brewery website.
Thank you for reading 20 articles this month* Join now for unlimited access
Enjoy your first month for just £1 / $1 / €1
*Read 5 free articles per month without a subscription
Join now for unlimited access
Try first month for just £1 / $1 / €1