BRAD ON CAV: HE'S LIKE A SCHOOLKID, HE'S SO UP FOR IT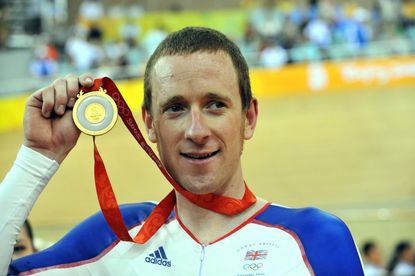 He?s got gold in the individual pursuit and gold in the team pursuit. So what?s Bradley Wiggins's take on medal challenge number three ? the Madison?
?I haven?t even thought about tomorrow,? Wiggins said. ?In fact I haven?t even touched my Madison bike, so I?d better get it out and see what?s possible.
?I spoke to Cav [Mark Cavendish] this morning, in fact I was a bit pissed at him because he woke me up ? he?s just like a schoolkid he?s so up for it.?
Ambitions could not be higher for Cavendish and Wiggins in the Madison. They?re already world champions in the discipline, but with so much GB cycling success at this Olympics nothing less than the top prize will do.
?We?ll have a good chat with Shane [Sutton] tomorrow cos he?s the master tactician and we?ll be waiting, firing for gold. A medal won?t do now tomorrow, it?s got to be gold.?
But at the same time, Wiggins is aware of just how unpredictable a race like the Madison could be.
?The Madison is the hardest [track race] of the lot,? he insisted. ?We could be the strongest and have a crash early on, so we?ll see.
?We?ll be careful, we?re current world champions, we just have to make sure we play it right.?
Any worries? ?Physically it?s possible to combine so many events [individual pursuit, team pursuit, Madison], just sometimes these things are hard to put into practice.
?For me the big pressure events are over now [the individual and team pursuit], all that getting up on that line and facing the countdown.
?I enjoy the Madison and that?s that. It is difficult going from two kind of steady state race [like the team pursuit] to one which is stop and go, but we do 70 kilometres an hour here [in the team pursuit], and there?s not many people going to faster than that.
?Most of the Six-Day guys just pose around on the blue [line at the bottom of the banking] when they?re training and you come in and watch them. You get them in the race and they?re really going good.?
On Tuesday it is possible that both he and Chris Hoy could take three golds. Wiggins says he?s convinced both he and Hoy are ready for it to happen.
?Chris has been preparing for this all along, and Chris was going for that, it looks like Jason Kenny's going to be his strongest opponent, and it?s a bit more of a lottery, but even if we didn?t two medals is not bad.
?I think it?s just the level we?ve got to. Winning the indiviudal was quite surreal, I spent an hour on it and then put it away in a drawer.
?Then I was thinking if I didn?t win tonight what a huge disappointment it would be and then I thought hang on, you?ve already got one gold. I was quite confused, actually!?
Swipe to scroll horizontally
OLYMPIC GAMES 2008: TRACK
Day four as it happened: Team pursuit gold and another world record
Day three summary: Gold for Romero. Pendleton, Hoy in charge in sprints. Kenny the revelation
From rower to cyclist: Romero takes an emotional gold
Brits smash world team pursuit record in round one
Tough day for the Dutch
Preview: Monday at the Laoshan
Day two in pictures
Sunday's action as it happened
Preview: Sunday at the Laoshan
Day two at the track: Summary of the action
Hoy and Edgar clean up in the Keirin
Wiggins gets pursuit gold, Burke wins bronze
Newton storms to bronze in points race
Saturday's action as it happened: Two gold, a silver and two bronze for Britain
Blog: Life in Laoshan
Day one in pictures
Brits blast to team sprint gold
Day one at the track: Summary of the action
Friday's action as it happened: Gold for team sprint trio; Wiggins, Houvenaghel and Romero well in control
Burke blasts to new individual pursuit PB
British track stars raring to go
What makes the Laoshan such a challenge
Picture special: CW takes you inside the Laoshan velodrome
Saturday's preview
Friday's preview
Can these legs make an Olympic champion?
Cavendish unlikely to ride individual pursuit
How many medals will Britain's riders win?
Swipe to scroll horizontally
Positive test for cyclist at Olympic Games
Bettini chasing second Olympic gold
Romero poses nude for ad
British quartet eyeing new world record
As Olympics approach two new drugs emerge
Beijing Blog
Beijing Blog 2
Beijing Blog 3
Swipe to scroll horizontally
Picture special: Women's time trial
Cancellara wins men's time trial gold
Men's time trial reaction: Steve Cummings on his ride
Women's time trial reaction: I feel fantastic, says Pooley
Pooley wins silver in women's time trial
Cooke's secret was the skinsuit
What the papers say... about Nicole Cooke
Analysis: women's road race
Gold for Nicole Cooke in Women?s road race
Reaction: It?s a dream to win Gold, says Cooke
Women's Olympic road race picture special
Sanchez gives Spain gold in thrilling men?s road race
Who is Samuel Sanchez?
Tactical analysis: Reading the men?s Olympic road race
British riders suffer in hot and humid Olympic road race
Rebellin misses out on golden birthday
Brailsford confident ahead of women?s road race
Swipe to scroll horizontally
OLYMPIC GAMES 2008: GUIDE
Olympics cycling results>>
Cycling event schedule>>
Great Britain rider profiles>>
Cycling event guide>>
Photo gallery>>
Every British cycling medal ever won at the Olympic Games
From paupers to kings: The lottery funded revolution>>
Track results at the Worlds and Olympics 2004-2008
Thank you for reading 20 articles this month* Join now for unlimited access
Enjoy your first month for just £1 / $1 / €1
*Read 5 free articles per month without a subscription
Join now for unlimited access
Try first month for just £1 / $1 / €1