Bradley Wiggins: Born to do this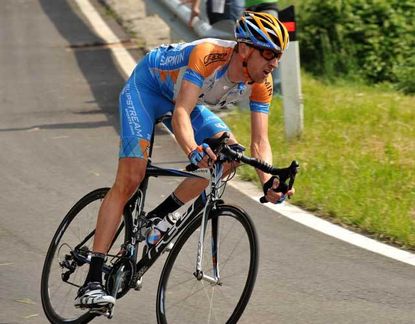 As the Giro d'Italia reached its first rest day, the revelation of the first week has to be Bradley Wiggins.
The 29-year-old multiple Olympic champion climbed like never before the Dolomites and sits 27th overall.
Wiggins was with the front group until the closing stages of the San Martino di Castrozza climb on Tuesday, and the following day he passed both Lance Armstrong and Damiano Cunego on Alpe di Siusi.
Many have expressed amazement at how well the Garmin-Slipstream rider has climbed, but if you'd read the feature in the May 2009 edition of Cycle Sport it may not have come as quite so much of a surprise.
In the past, Wiggins has had long periods of focusing on the track. Last winter, for the first time in his career, he was able to dedicate himself to preparing for the road. He lost a bit of bulk from his already skinny frame and has decided to see how far he can go.
Think back to the Classics, where he got in the break at Ghent-Wevelgem and rode strongly at Paris-Roubaix. Now he's testing himself to see what he can do in stage races.
He won't win a grand tour, but the first week of the Giro has opened doors for him. Even if he tails off or suffers a bad day or two between here and Rome, he will have greater confidence for the week-long stage races.
The Giro has confirmed to Wiggins what many close to him have long known was in him. Here we reproduce the Cycle Sport feature.
BORN TO DO THIS
Shane Sutton remembers being at the Munich Six-Day and marvelling at the sight of Bradley Wiggins on the track during a Madison race. What impressed Sutton was the speed, the fluidity, the way Wiggins moved between the other riders with the precision of a shuttle weaving between the threads on a loom. He seemed to have a sixth sense, an ability to know who was behind him without needing to turn his head to look.
?He came off the track and handed me his bike and said ?I was born to do this? and he was dead right. The guy was born to ride a bike fast,? says Sutton.
Sutton knew Wiggins?s dad, Gary. He was a fellow Australian who made a living on the Six-Day circuit. He was fast, but he was a different rider, rougher round the edges, more obviously aggressive, more of a battler.
Bradley Wiggins glides on the boards, making it look so easy, whether it?s the pure concentration of the pursuit, or the hurly-burly of the Madison. Last year, he won three gold medals at the World Championships and two Olympic titles, and yet there is a tendency among certain sectors of cycling?s fandom to criticise him for what he hasn?t done rather than celebrate what he has.
Track success, it seems, is second rate in the world of professional cycling. Partly that is because there are fewer riders taking part, but remember a year ago when Fabian Cancellara and Tom Boonen suggested they might challenge Wiggins for his Olympic pursuit crown? Those statements came to nothing, and there is a reason for that. It?s because it isn?t easy.
Far from it. Those who know about track racing will tell you that riding a 4-15 in the individual pursuit under today?s conditions is every bit as impressive as Chris Boardman?s world record of 4-11, set using the ?Superman? position, which was later banned.
It is true that Wiggins has yet to apply himself with the same single-minded dedication on the road, but the assumption seems to be that in order to be the best in the world at the pursuit, you get race fit, compete in Classics and tours and rock up to the velodrome a week beforehand and pull on a skinsuit. You don?t. As Wiggins showed last year, when he raced very lightly on the road, completing just a handful of races before using the Giro d?Italia as the bulk of his preparation, you have to build everything around those track objectives.
This season, Wiggins is riding for Garmin-Slipstream and Jonathan Vaughters has said that one of his goals is to help him fulfil his potential on the road.
?You look at the guy and you think he should be a Classics rider,? says Sutton. ?He can win prologues and time trials, but a guy who can go that quick should be winning some big races.
?Look at the Cancellara tactic. There?s no reason Wiggins can?t do that. If Brad Wiggins hits you hard with a k to go, it?s going to take some lead-out train to bring him back. I?ve told him ?don?t be frightened to stick your nose out in the wind, hit them late?.
?He?s got to start thinking like a winner on the road. He thinks like a winner on the track, he?s just got to transfer that mindset. He?s given his all for British Cycling?s track programme over much of the last eight years but not it?s time for him to do something for Brad Wiggins. A lot of people talk a lot of nonsense about what he does on the road, but he?s an amazing bike rider. Some of these people should try being Brad for a week and see if they can do what he does.?
On the opening day of Paris-Nice, Wiggins showed what he could do. In wet, windy conditions, and starting early on, he posted the best time in Amilly. Having an early start time in a short time trial carries a lot of pressure. Of course, there?s pressure for the favourites whether they are off first, or last, but if you set off early, you have it all to lose and little to gain. Fluff your lines and fail to set the best time then, and it looks like a poor ride. Set what looks a reasonable time, and there?s a long wait to see if it stands up to scrutiny.
Wiggins went out and took his track fluidity with him. His time was four seconds quicker than anyone else. Except Alberto Contador, of course, who smashed the time by seven seconds. Contador is a good time triallist, even over short distances, but that was a surprise, and not one Wiggins took too well.
It was a repeat of the same story. A great ride undone by someone else, leaving Wiggins all bereft of credit for his performance.
For example, does Wiggins get the credit he deserves for finishing fourth in the final time trial at the Giro d?Italia last year? Or for his superb fifth-place finish in Albi during the 2007 Tour. That day he was beaten by Alexandre Vinokourov and Andriy Kaschechkin, who should never have been allowed to start the race. When Wiggins won the prologue of the Dauphiné Libéré earlier that summer in Grenoble, beating Levi Leipheimer by a single second over 4.2 kilometres people said: ?Oh well, it was the perfect distance for a pursuiter. He should have won.?
When Wiggins was just a few months short of his 21st birthday, he arrived at a hotel in Bagshott, Surrey, to meet up with the rest of his Linda McCartney team-mates before the team launch, only to find that the team was collapsing around them.
On the eve of his first step into the professional ranks, suddenly he was thrown a curve ball. He dealt with it in what we now know to be his typically selfless style, with a dash of self-confidence thrown in. ?I?ll be okay, I can ride for the [World Class Performance] Plan. I feel sorry for the older guys who have to find a team very late in the day.?
Wiggins, already an Olympic bronze medallist after playing his part in the team pursuit at Sydney in 2000, eventually turned pro with Francaise des Jeux, completed the Giro d?Italia at the first attempt, moved on to Credit Agricole, then Cofidis.
He seemed to be stuck on the French merry-go-round, unsure of how to get off. Jeremy Hunt once joked that once you?ve ridden for every French team for a season, you?re forced to retire. Wiggins moved to T-Mobile, who offered only a one-year deal but let him balance riding the Giro with his Olympic aims.
Riding for High Road, he impressed as part of Mark Cavendish?s lead-out train, but at 28, he didn?t want to become typecast. With his ability to hold a high pace for several kilometres, he could have carved out a lucrative niche and become the Gian Matteo Fagnini to Cavendish?s Mario Cipollini, so to speak.
Wiggins had ambitions for himself. ?Columbia is going to be the Cav show and who can blame them,? he said. ?But I don't want to go to every race leading out Cav every day. It was good fun doing that for him at the Giro, but I don't fancy that for the next few years. I still have ambitions myself. The problem is that the stages when I can go for it and try to get in breaks are also the ones when Cav can win, and my job would be to be by his side.?
In 2006, after the Floyd Landis positive made a mockery of an entire Tour de France, Wiggins was outspoken about dopers and doping in cycling.
He could barely contain his anger and frustration at times and stood up for what he felt was right. As often happens, he was then labelled, and was the ?go-to? guy for the press looking for a quote about doping. That, understandable, became wearing and Wiggins sought to step away from becoming the perceived saviour of a generation. He knows what he feels, he knows how he trains and competes, and he knows what he feels about those who cheat. That is enough.
The following summer, his Cofidis team-mate Cristian Moreni tested positive during the Tour, and Wiggins and the rest of the squad were escorted by police from the top of the Col d?Aubisque to their hotel on the outskirts of Pau. Their rooms were searched, they were asked questions, and the press gathered outside as another Tour descended into farce with first the Vinokourov, then Moreni and finally, later that night, Rasmussen facing the flashbulbs.
I remember well the expression of bewilderment on Wiggins?s face as he was shepherded into the hotel by two officers he later said were very friendly. Here he was, trying to compete clean, becoming embroiled in a scandal that was none of his doing. Moreni, he said, was a nice guy. His actions had jeopardised jobs and reputations and, Wiggins said, it was right that his team pulled out of the race. He?d wanted to go after Vinokourov tested positive anyway. Sick of the scandal, being beaten by a doper stung too. Had his wife, Cath, not booked a flight to be in Paris for the final Sunday, he?d have climbed off his bike and flown home from Pau.
Later that night, he sent me a text saying: ?That?s it. I?m calling a press conference to announce my retirement tomorrow.?
?You?d bloody well better not,? I replied.
?Only joking. Can?t let the bastards grind you down,? he said.
Wiggins is his own man, there?s no doubt about it. He does what he thinks is right. Earlier that day Wiggins had rolled over the start line in Orthez, ignoring a protest led by the French teams at the continuing doping scandals affecting the race.
?What, we?ve got to the stage where starting the race means you?re supporting dopers?? he said later that day, after the police had finished asking him questions about Moreni. ?No one knew what was going on, who was doing what. People who were protesting, shouldn?t have been. What?s the point of that??
In his autobiography, In Pursuit of Glory, published last year, Wiggins attempted to break some of the stereotypes that have attached themselves to cycling, particularly in Britain.
The image of the staid, boring, totally-dedicated athlete, living the life of a monk, thinking of nothing but the bike, is not a reality most professionals know. The whole tone of his book seems to be to explain that not everything is black and white, that there is colour as well as shades of grey. Wiggins has revealed a few of his interests, the music of Paul Weller, playing the guitar, and Belgian beer among them, and glimpses of his personality came across. Everyone will tell you, Wiggins is a funny guy. His humour is typically British. Dry, with a sarcastic edge. He?s sharp, a great impersonator, and can deliver a wind-up line with a granite straight face, before the glint in his eye gives him away.
Perhaps it is the pragmatic streak that means he doesn?t endear himself right at the heart of fans. After his Olympic success, he was typically straightforward in his assessment of his achievements. Sometimes he speaks as if winning gold medals is as easy as getting out of bed in the morning. Fans and the dream makers in the media don?t want to hear about meticulous planning, finely-honed training programmes that leave nothing to chance and the run-of-the-mill sense that winning an Olympic final is simply ?getting the job done?, but that?s how Wiggins sees it. He often says after an event that he expected to win, and that the over-riding emotion during the victory lap is relief.
We will see over the next two or three seasons whether Wiggins can make the impression on the road those close to him think he can. Whether he will be appreciated is another matter. After all, Chris Boardman won three Tour de France prologues, and 41 pro races in total, but still there are those who focus on what he didn?t win. As Wiggins says, though: ?You can?t change what people who?ve never met you think about you.?
Thank you for reading 20 articles this month* Join now for unlimited access
Enjoy your first month for just £1 / $1 / €1
*Read 5 free articles per month without a subscription
Join now for unlimited access
Try first month for just £1 / $1 / €1