Brian Cookson denies closing Paris track for personal training session
Video posted on Facebook by Malaysian coach suggests UCI President Brian Cookson stopped athletes getting on the track during a training session on Thursday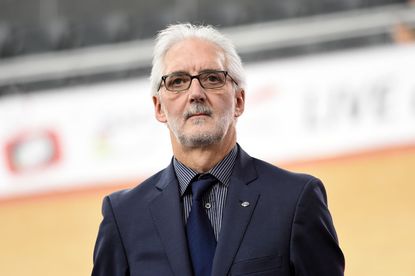 UCI President Brian Cookson denied closing the world championship track in Paris for a personal training session after a video of him riding round with Frédéric Magné was posted on Facebook.
The video was posted by Malaysian coach John Beasley who can be heard talking over the video saying Cookson had closed the track and stopped competitors from riding ahead of Thursday's afternoon session.
Cookson however was on the track ahead of the scheduled two hour training session that ran from midday to 2pm, when the track was officially closed.
Some team managers would like the training sessions open for longer to allow riders who are competing later in the week to ride. Typically the training sessions are used by riders warming up ahead of racing later that day.
As the story spread on twitter Cookson took to the social media platform to further deny he stopped riders from getting on the track.
Thank you for reading 5 articles this month* Join now for unlimited access
Enjoy your first month for just £1 / $1 / €1
*Read 5 free articles per month without a subscription
Join now for unlimited access
Try first month for just £1 / $1 / €1