BRITAIN AIMING FOR WORLD RECORD IN TEAM PURSUIT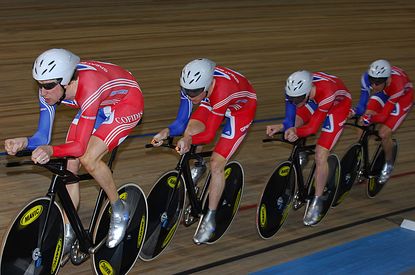 The Great Britain men?s team pursuit squad is aiming to set a new world record during the world championships in Manchester today.
The current record is held by Australia who set a time of 3:56.610 at the Athens Olympic Games in 2004, but according to coach and former world and Olympic champion Chris Boardman, the fast conditions in Manchester and the strength of the British riders mean the record could be lowered by several tenths of a second.
?I think it?ll go. My guess is that they?ll do a 3:56,? Boardman told Cycling Weekly.
?All the teams training efforts have been geared to doing that or faster but of course they don?t do that pace to the full distance in training.?
Despite riding two individual pursuits on Wednesday, Bradley Wiggins is down to ride the qualifying round of the pursuit at lunchtime, to give the Great Britain quartet an extra boost in pursuit of the record.
If you were at the track on Wednesday, you may have noticed the high temperatures in the velodrome. It Is not to make you buy more beer from the bar. The heating system has been cranked up to recreate the same conditions riders will face in Beijing in August and help them set fast times and even world records.
?Temperature can make a huge difference,? Boardman confirmed.
?The ideal temperature is about 26 or 27 degrees. The air pressure is fairly low at the moment, which is good, and the humidity is high which is also good. I?d say that Manchester is as fast or faster than anywhere else in the world I?d say.?
The team pursuit qualification begins at 12:00am, with Great Britain scheduled to ride just after 1:00pm.
If everything goes to plan Great Britain will face Australia in the team pursuit final and set a new record just after 7:00pm on Thursday evening.
The Aussies have an experienced team with Bradley McGee and Graeme Brown but the Australians have admitted they do not have the decisive speed of the British riders. Boardman agrees.
?Australia are pretty solid and technically they?re always good but from what we saw in training, they were fast but not fast enough.?
There will be live reports from the Manchester velodrome during the qualification round at lunchtime and from the whole of the evening session.
RELATED LINK
World Track 2008: All the results from Manchester
Thank you for reading 20 articles this month* Join now for unlimited access
Enjoy your first month for just £1 / $1 / €1
*Read 5 free articles per month without a subscription
Join now for unlimited access
Try first month for just £1 / $1 / €1