BRITAIN HEADING FOR MORE MEDALS AT WORLDS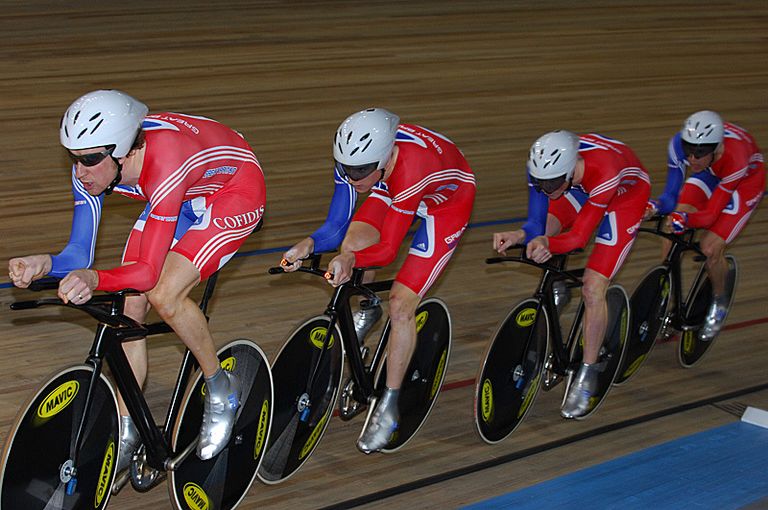 Britain?s comfortable lead in the medals table at the World Championships in Majorca looks set to increase yet further on Friday evening, following some superb performances in this morning's qualifying rounds.
From the get-go it was looking good for Great Britain. Already a gold medallist in the individual pursuit on the first night, Bradley Wiggins joined Geraint Thomas, Ed Clancy and Paul Manning in the team pursuit qualifying rounds on Friday morning. Superb team-work was rewarded with the only sub-four minute time - 3:59.579 - of the morning, over five seconds ahead of closest rivals Ukraine. Surprisingly, Australia were well off the pace, clocking just 4:07.447, only good enough for sixth place.
Victoria Pendleton and world championship debutant Anna Blyth kept the flag flying in the woman?s sprint heats, posting top ten places in the 200 metres qualifier. Pendleton went on to beat Kristin Bayley despite the Australian?s rather dodgy final sprint (which earned Bayley an official warning) and Blyth continued to punch above her weight by beating American Jennie Read.
Unluckily, Blyth was then drawn against Pendleton for the next round. Pendleton?s greater experience won her the match against her fellow-Briton, and Blyth was then unfortunate to have to tackle two Germans in the repechage. She almost made it, but Christin Much just pipped her to the line. Pendleton now faces Belarussian Natalia Tsylinskaya in the quarter finals.
With Britain going from strength to strength, it barely felt like a surprise that former Olympic rower Rebecca Romero clocked the second best time of the day, taking a huge chunk off her personal best, in the women?s individual pursuit. Just a fraction slower than defending champion rider Sarah Hammer of the USA. Romero is now up for either a silver or gold this evening, whilst Wendy Houvenhagel could join her on the podium if she manages to beat Australian Katy Mactier in the bronze medal final.
Thre winning feeling doesn't end there for Great Britain. Chris Hoy comfortably managed to take his heat of the keirin to qualify for the final, while Jonathan Bellis rode within himself in the scratch race qualifier to make it through to tonight's final. With two medals already guaranteed to be added to the two golds and a silver from Thursday, it's a highly impressive start to the day.