Britain's junior track sprinters prepare for battle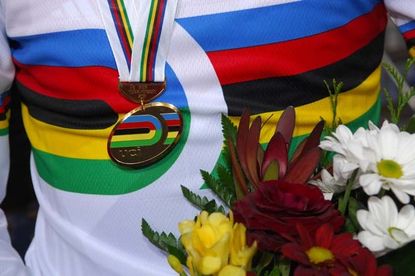 Britain's junior men will be circling around the Brescia track this afternoon, looking to qualify for the individual sprint finals at the World Championships.
"Hopefully, if it goes well," said coach Jon Norfolk, "we will get all three of our guys to the first round and get into some match sprinting."
It has gone well so far, three out of these four riders were just two-tenths a second away from winning a medal in the team sprint on opening day of the championships. They missed out on a bronze medal in their duel with Germany, after Laura Trott won a silver medal in the scratch race.
The British team is in Northern Italy this week primarily for the experience, and to lay the groundwork for eventual Olympic medals. A medal here at the junior level is a bonus, but as the men realised yesterday, the competition for one is unyielding.
"The French set the junior world record in their qualifying round," said Norfolk.
They covered the three laps, 750 metres total, in 45.402 seconds. GB qualified with 46.527 and challenged for bronze with a 46.104.
"We have four sprinters of reasonable equal ability, so we kept them all warming up together so if anything was to happen to one member would be ready to slot in for the other. Kian Emadi handled that really well and was really professional, and was able to slot in later," Norfolk said.
"Their professionalism, especially at a junior race, is just as important as the result itself. John Paul went off first, [then] Lewis Oliva, and Callum Skinner in qualifying. In the final, John started again, but we put Kian Emadi in man two and Skinner in man three. That allowed Lewis to rest for the sprint today."
"We have around 55 riders that will try to qualify today [in the individual sprint] and only 24 will go to the first round."
The British juniors have experienced success at the junior track worlds in previous year. Last year Rebecca James won a two golds and a silver medal, while in 2006 Jason Kenny won two golds.


RELATED LINKS
Trott takes silver medal at junior world track champs
British juniors take on world in Italy
Thank you for reading 20 articles this month* Join now for unlimited access
Enjoy your first month for just £1 / $1 / €1
*Read 5 free articles per month without a subscription
Join now for unlimited access
Try first month for just £1 / $1 / €1