'Disproportionate and deeply concerning': British Cycling hits out at proposed ban on cyclists on A63
British Cycling and Welcome to Yorkshire submit joint response to consultation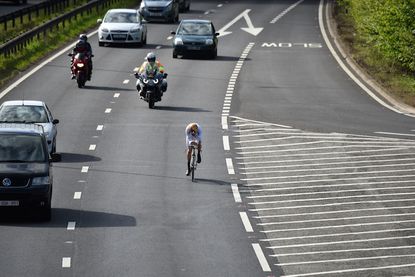 (Image credit: Andy Jones)
British Cycling has joined the growing list of organisations and individuals to speak out against the proposed ban on cyclists on the A63 near Hull, calling the move "disproportionate" and "deeply concerning".
Cycling Time Trials and Cycling UK have already responded to the consultation, criticising Highways England's proposal to implement a Traffic Regulation Order on the road, which is used as part of the V718 time trial course, that would see cyclists banned from the road.
In its proposal, Highways England cited the speed and density of vehicle traffic and the six accidents involving cyclists on the road in the last five years as evidence to ban riders from the road, reasoning that was criticised by British Cycling CEO Julia Harrington.
>>> Why banning cyclists from the A63 road would be a terrible move
"While any fatality on our roads is tragic and upsetting, this response is disproportionate to the small number of collisions involving people cycling," Harrington said in a joint statement with Welcome to Yorkshire chief executive Gary Verity.
"We have also been informed that the single fatality which is cited was not related to speed or density of traffic – the two reasons put forward to support this order.
"The small number of collisions involving people cycling must also be put into context with the nearly 300 collisions, cited in the response from Cycling Time Trials, involving motor vehicles on the same stretch of road over the same period of time.
"If speed and density of traffic was accepted as a reason to ban cycling, cyclists would be banned from the vast majority of our roads. If approved, this approach will set an extremely dangerous precedent."
British Cycling and Welcome to Yorkshire have submitted a joint response to the consultation, describing the proposed ban as a "knee-jerk reaction" that would have a negative impact on the local economy and went against Highways England's own Cycling Strategy.
>>> The secrets of Britain's fastest time triallists
They also said that the ban would have a "negative impact on people's ability to participate in the sport ahead of a potentially hugely significant year as Yorkshire looks forward to hosting the 2019 UCI Road World Championships" and would damage the county's reputation as a destination for cyclists.
The consultation on the proposed ban runs until February 19. Responses can be submitted to jill.thornhill@highwaysengland.co.uk or via post (quoting the order title The A63 Trunk Road (North Cave Interchange to Daltry Street Interchange) (Prohibition of Cyclists) Order) to the following address: Director, Operations Directorate (Yorkshire and North East), Highways England, 3rd Floor South, Lateral, 8 City Walk, Leeds, LS11 9AT.
Thank you for reading 20 articles this month* Join now for unlimited access
Enjoy your first month for just £1 / $1 / €1
*Read 5 free articles per month without a subscription
Join now for unlimited access
Try first month for just £1 / $1 / €1