Why banning cyclists from the A63 road would be a terrible move
Comment: Banning cyclists from a road that they have every right to be on because it is 'dangerous' puts the blame in the wrong place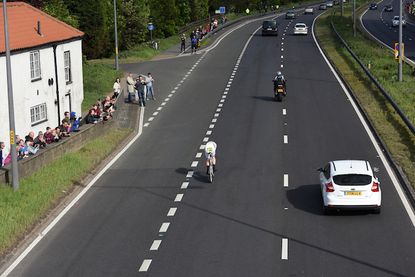 (Image credit: Andy Jones)
News broke over the weekend that Highways England wants to ban cyclists from the A63 near Hull, a dual carriageway road that forms part of the V718 time trial course.
Highways England cited the incidence of several injuries to cyclists on the road and a fatality in 2013, which occurred during a time trial. It wants to ban all cyclists – not just time trial competitions – from using the road via a Traffic Regulation Order from the Department for Transport.
It's a move that appears to blame cyclists for their own injuries, for daring to ride on a 'dangerous' busy road that they have every right to be on.
>>> Riders slam plans to ban cyclists from 'dangerous' V718 time trial course
As has been said many times before, it is not a static piece of asphalt that is dangerous, but the people driving the vehicles upon it. Simply removing cyclists from a road on which they get hurt is not doing anything to solve the real problem.
Hull Thursday Road Club posted a copy of a statement from Highways England on its Facebook page citing the reason for applying to ban cyclists from the A63, it reads: "Concerns have been raised for the safety of cyclists using the A63 trunk road between North Cave interchange and Daltry Street interchange. Cyclists are travelling on a carriageway that carries average speeds of 65mph for traffic, at a rate of over 2,500 vehicles per hour. In the last five years there have been six accidents involving cyclists, including a fatality in 2013.
"In the interest of road safety, Highways England Company Limited is proposing to ban cyclists on this stretch of road, including associated slip roads."
http://www.youtube.com/watch?v=_vFjec2zsio
It appears as though even Highways England has resigned itself that there's nothing it can do to improve the safety of cyclists on the road, so the best thing to do would be just get rid of them.
Imagine if this method of tackling the problem was rolled out across the whole of England, and perhaps Britain? That mentality would see cyclists get banned from any road on which cyclists were involved in a collision with a motor vehicle. Which is a lot of roads.
There have been several incidents of cars hitting bus stops and pedestrians on pavements in recent months, but there have been no calls for bans on roadside bus stops or bans on pedestrians from walking on pavements.
>>> Chris Boardman: 'Riding a bicycle or crossing a street shouldn't require bravery'
It's the mindset that cars are king (and vans and trucks), and no matter who you are, when you step into one you have a right to travel where you like and how you like, unimpeded. And if you hit something... well, it's just one of those things.
It may not fall within the remit for Highways England, but time and effort would be better spent in educating drivers to watch out for other road users rather than placing a blanket ban on all cyclists to cure a problem caused by something else.
The consultation period for Highways England's proposed ban on cycles from the A63 ends on February 19. Objections can be made to Director, Operations Directorate (Yorkshire & North East), Highways England, 3rd Floor South, Lateral, 8 City Walk, Leeds LS11 9AT with reference 'The A63 Trunk Road (North Cave interchange to Daltry Street interchange)(Prohibition of cyclists order)'.
Thank you for reading 20 articles this month* Join now for unlimited access
Enjoy your first month for just £1 / $1 / €1
*Read 5 free articles per month without a subscription
Join now for unlimited access
Try first month for just £1 / $1 / €1