Chris Boardman: 'Riding a bicycle or crossing a street shouldn't require bravery'
Chris Boardman is presenting his plan to get more people cycling and walking to the All Party Parliamentary Cycling Group on Wednesday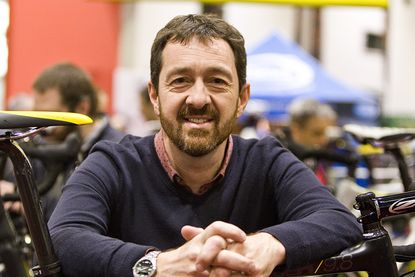 (Image credit: Chris Catchpole)
Olympic gold medallist, British Cycling policy advisor and Greater Manchester's cycling and walking commissioner Chris Boardman says that cycling on Britain's roads or crossing the street should not require bravery.
He made the comment as he announced details of a report on how to improve cycling and walking infrastructure that he is presenting to the All Party Parliamentary Cycling Group (APPCG) on Wednesday.
Boardman's 'Made to Move' report for Greater Manchester outlines a network of cycle and walking routes that the average 12-year-old would want to use.
Writing for the British Cycling website, Boardman says: "When I said a network that a 12-year-old would want to use, I chose every word carefully.
"There are measures I could recommend such as multi-stage crossings of a junction that would keep people safe but take five times longer, but if people don't want to use them, we won't get change.
"People do the easiest thing, so whatever we create must be easy, attractive and safe – all three, in that order, to convince those that don't cycle already to venture out in significant numbers."
http://www.youtube.com/watch?v=NxMF_YFVFaA
Boardman says that in Greater Manchester, 30 per cent of car journeys made are less than one kilometre in length, and therefore could easily be replaced by cycling and/or walking routes.
He explains that his plans for Manchester could easily be applied for the rest of the country, and that is what he is presenting to the APPCG.
"We want the Department of Transport to help us deliver this vision, let us prove the case, then follow suit, so that all transport investment across the UK meets this standard and allows us to reap the benefits in full," says Boardman.
>>> Chris Boardman: 'Shame on the government' for discussing compulsory cycle helmet law
Boardman says that he recognises that there are great pressures on public expenditure, but that he thinks the benefits outweigh the costs. Levels of obesity and air pollution are just two issues that could be changed for the better.
"Riding a bicycle or crossing a street shouldn't require bravery, but after decades of prioritising the interests and needs of the motor car above all else, rectifying the situation in favour of people walking and riding short journeys will initially require enormous political courage.
"Creating cycling networks fit for our 12-year-olds won't come cheaply, but building to a lower standard will cost much, much more."
Thank you for reading 20 articles this month* Join now for unlimited access
Enjoy your first month for just £1 / $1 / €1
*Read 5 free articles per month without a subscription
Join now for unlimited access
Try first month for just £1 / $1 / €1