CTT calls riders to action in opposing ban on cyclists from V718 time trial course
Time trial governing body asks riders to write to Highways England to oppose ban on cyclists from A63 near Hull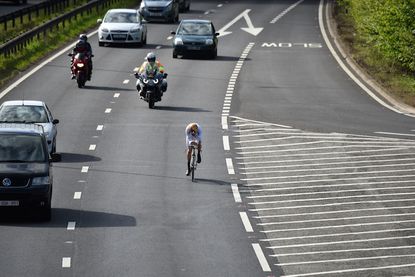 (Image credit: Andy Jones)
Cycling Time Trials, the governing body in charge of the vast majority of time trials in the UK, says that it will object to an attempt to ban cyclists from the A63, which includes the "ultra-fast" V718 10-mile course, in the "strongest possible terms" as well as issuing guidance on how others can do the same.
In an open letter to riders published on the organisation's website, the CTT Board of Directors set out the reasoning for objecting to Highway England's proposal of a Traffic Restriction Order (TRO) to ban cyclists from the A63 near Hull.
As part of its proposal, Highways England said that "cyclists are travelling on a carriageway that carries average speeds of 65mph for traffic, at a rate of over 2,500 vehicles per hour. In the last five years there have been six accidents involving cyclists, including a fatality in 2013."
More on this story:
>>> Riders slam plans to ban cyclists from 'dangerous' V718 time trial course
>>> Why banning cyclists from the A63 road would be a terrible move
However the CTT said that it disputed these figures, and pointed out that the same stretch of road saw a significantly higher number of accidents involving motor vehicles than accidents involving cyclists over the same period.
"CTT does not accept that on the days and at the times that time trials are held on this stretch of road that the figures quoted by Highways England accurately represent the correct position. CTT does not believe that the V718 course represents a danger to cyclists or that time trials held on this course are not safe," the CTT said.
"The six accidents referred to are not all accidents in CTT events. That is the total number of accidents involving cyclists over the last six years, which is not statistically significant. That should be compared against a recorded number of 297 accidents over the same period on this stretch of road involving motor vehicles.
"Accordingly, CTT intends to object to the proposed TRO in the strongest possible terms."
>>> The secrets of Britain's fastest time triallists
The CTT has also urged others to join it in objecting to Highways England's proposal, setting out a number of suggested objections such as the "very low" number of accidents involving cyclists. Full details can be found on the CTT website, but riders are urged not to base their objections on the fact that the V718 is a fast time trialling course.
The deadline for Highways England's consultation on the A63 TRO is February 19, with objections needed to quote the reference "The A63 Trunk Road (North Cave Interchange to Daltry Street Interchange) (Prohibition of Cyclists Order)" and be posted to The Office of the Director, Operations Directorate (Yorkshire & North East), Highways England, 3rd Floor South, Lateral, 8 City Walk, Leeds, LS11 9AT.
Thank you for reading 20 articles this month* Join now for unlimited access
Enjoy your first month for just £1 / $1 / €1
*Read 5 free articles per month without a subscription
Join now for unlimited access
Try first month for just £1 / $1 / €1