British Cycling to hold first 'eRacing Championships' with training platform Zwift
Indoor cycling continues to grow in popularity, with a new national competition being introduced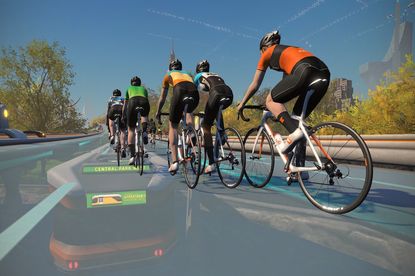 British Cycling will be holding the first eRacing Championships in 2019 with training platform Zwift.
The competition, due to be held early next year, will be open to all British Cycling members, with training rides being held on Zwift in the run-up.
A national e-racing champion will be crowned in the inaugural race, which follows the UCI's announcement of the eSports World Championships.
Zwift CEO and co-founder Eric Min said: "Wearing your country's national stripes is a huge honour, but relatively few ever get the chance to compete.
"But that is not the case with the British Cycling eRacing Championships, powered by Zwift, as everyone in the country is eligible to throw their hat into the ring.
"We are looking at dates in February and March 2019, so now is as good time as ever to start training and keep in shape this winter."
>>> Five tips to nail the Rapha Festive 500 on Strava
In September, the UCI announced it would hold an eSports World Championships and set down rules for virtual races for software like Zwift.
British Cycling announced its own race on Thursday, aimed at bringing the governing body's 146,000-strong membership closer together.
The championship will be comprised of qualifying rounds, followed by a live final event between the top-ranked riders from all ages.
Finalists will compete for a Kalas Sportswear-designed national jersey in a multi-event format comprised of a series of short races, including a time-trial and an elimination race.
>>> Best Christmas gifts for cyclists 2018
British Cycling commercial director, Jonathan Rigby, said: "The eSports market is particularly exciting for cycling as it enables so many more people to participate and be active.
"We are thrilled to be exploring this new territory with Zwift to innovate in cycle sport.
"Their technology and our cycling expertise will together allow communities of cyclists to get more out of riding bikes for competition and for fun.
"We are also excited about what this could mean for identifying talent.
"We are proud to have a wealth of gifted riders competing on the world stage and we are confident that Zwift technology will enable us to unearth more future stars."
Group training rides will be held on Zwift, the first being led by double Paralympic champion Steve Bate at 7pm on December 12.
The final ride of 2019 will take place on December 19 with Jody Cundy.
Full details of the British Cycling eRacing Championships, powered by Zwift will be unveiled in the coming months.
Thank you for reading 5 articles this month* Join now for unlimited access
Enjoy your first month for just £1 / $1 / €1
*Read 5 free articles per month without a subscription
Join now for unlimited access
Try first month for just £1 / $1 / €1