Six tips to nail the Rapha Festive 500 on Strava
The Rapha Festive 500 returns to Strava this year, so here are our top six tips to complete the distance challenge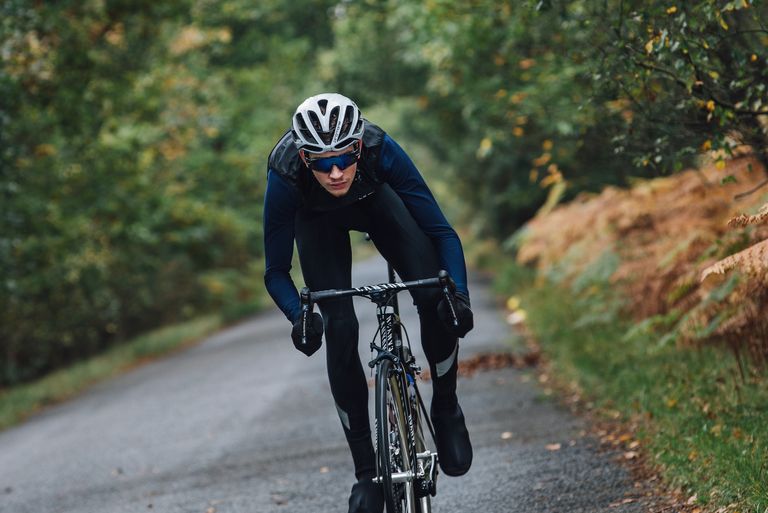 The Rapha Festive 500 is back for 2020, the 11th running of what is now a global annual event for cyclists.
The premise is simple; ride 500km between Christmas Eve and New Year's Eve. It might sound straightforward, but a combination of cold and adverse weather in the northern hemisphere and fitting in riding around eating your own body weight in food every day is a real challenge.
Of course, for nearly all of us 2020 will be a very different festive period and the Festive 500 may be the perfect distraction to the ongoing realities of daily life at the moment. Getting outside to ride may not be possible for everyone though, depending on your own circumstances, so Rapha has this year added the option of completing all or part of the challenge virtually by partnering with Zwift.
Almost 120,000 people signed up for the 2019 Strava challenge with over 29 million combined kilometres ridden, and that could be surpassed this year.
Everyone who completes the challenge will get a digital roundel for their Strava Trophy Case, as well as entry into a prize draw to win a Canyon Grail CF SL 8 eTap.
Unless you have unlimited time on your hands you'll probably want to strategise how you get the kilometres completed. Getting a big ride in early to take off a chunk of the total is a good way to get started, and means you'll be able to take Christmas Day off the bike to really celebrate. Of course you can always approach it day by day, and ride 62.5km over each of the eight days to get it done.
Whichever way you approach it, here are some of our top tips to nail the Festive 500.
1. Dress yourself and your bike for the conditions
Dressing poorly for the weather where you live is a sure-fire way to end your ride early, and possibly keep you off the bike for a while after.
Low temperatures, rain (even snow), and high winds are all factors in winter riding but barring extremes these can be negated by well-chosen kit.
Keep the rain out and your skin dry to retain body heat with a decent rain jacket. A pair of high-quality overshoes will keep you comfortable and your toes toasty. Pull on a pair of bib tights and your legs can stay warm all day. A warm and comfortable pair of gloves will keep you able to brake and change gear properly and generally enjoy the ride.
Dressing properly for the conditions allows you to cover the intended distance in relative comfort and not be put off getting out on your bike day in, day out.
If you're lucky enough to be having a warm Christmas in the southern hemisphere, make sure you're prepared for the warm summer temperatures and plan where you'll top your bottles up.
Once you've kitted yourself out, what about your bike? Winterise your machine and you'll soon be munching the mileage problem-free.
2. Pace yourself
Heard about the local chaingang going out for a 22mph smashfest around the lanes on Christmas Eve but feeling a bit under-trained? Probably do your own thing and catch-up with them later in the week.
Putting yourself right in the red on the first day will not stand you in very good stead for the rest of the challenge.
Think about the mileage you want to cover on each ride and the speed at which you can cover that distance without over-stretching yourself ahead of the remaining rides.
3. Plan a day off for Christmas
Even though 2020 will be very different, you should still find the time to enjoy your Christmas as much as possible. 'Tis the season after all.
You may need to put in a couple of pretty big days to make up the kilometres, but giving your body and your mind the freedom to enjoy Christmas Day and Boxing Day shouldn't be abandoned just to keep a daily total going. Your family will probably appreciate it as well.
Taking the time to enjoy the season should leave you fresh and raring to go when you pick up the challenge again after Christmas. Just don't go too overboard on the Quality Street.
4. Find an easier route
Huge elevation gains and tricky cobbled routes are great, most of the time.
But what about when it's New Year's Eve, it's forecast to rain at midday and you've got 70km left to complete the challenge?
Climbing can be an enjoyable challenge but with 400+km already in your legs and a bit of added Christmas weight sitting heavy around your middle, you might not fancy dragging yourself up that local 20 per cent killer ramp.
Stick to the lowlands, use the wind to your advantage and you'll be home and done before you know it.
5. Don't take risks
It's often hard to admit but sometimes cycling just isn't a safe or sensible option. Hit a patch of black ice and that could be your spring racing and sportive season out the window, let alone finishing Christmas week with some decent miles under your belt.
If you've planned your riding well, then there should be plenty of spare capacity in the week to extend a couple of the other rides or get out on New Year's Eve even though you thought you'd be done by then.
What's more, if the conditions are completely unsafe and you don't complete the challenge then it really doesn't matter. The following weekend could be wall-to-wall sunshine and ice-free roads.
Come the spring your legs won't know if you completed the challenge or not, so long as you get the miles in over the winter as a whole.
Of course this year you can also ride indoors...
6. Ride indoors
For the first time since the inception of the Festive 500, you'll be able to count indoor kilometres towards your total.
The spirit of the challenge might say you should take it on outside if you can, but for many riders at the moment the only option is to ride indoors.
Riding indoors presents its own challenges. A fixed position as you'll get on the turbo isn't as conducive to long rides, so you'll need to make sure you're getting out of the saddle regularly and wearing good quality, comfortable shorts to prevent any chafing or saddle sores.
Psychologically, completing 500km inside your living room isn't easy but using platforms like Zwift to take on interesting routes or group rides with friends will go a long way to helping tick them off.
Make sure you've got your setup dialled as well. A decent fan will stop you from overheating and a towel is a must to mop up the inevitable floods of sweat. Don't forget to keep fuelling as well; it can be easy to forget riding indoors that you still need to eat and drink regularly to keep yourself going over long rides.
On the bright side, you'll be able to avoid the rain and cold if you're in the north, and you'll also be able to ride whenever you like, day or night.