Six tips to help you finish the Rapha Festive 500 in 2022
Rapha have released all the details for their annual challenge over the festive period, here's all our advice on how to finish it

(Image credit: Marius Nilsen / Rapha)
The Rapha Festive 500 is set to return for its 13th successive year, as cyclists around the world aim to complete the prestigious challenge on Strava over the course of eight days.
Between 24-31 December, riders across the globe will press start on their bike computers before embarking on the cycling challenge. Although it isn't all about the competition, it's far more important than that.
At the forefront of the idea sparked by former Rapha designer Graeme Raeburn, is the camaraderie of it all amongst the cycling community. As well as this, the challenge typically generates hundreds of inspiring stories of perseverance and determination, and the occasional funny anecdote of where you went wrong which you can laugh off with fellow cyclists.
12 years ago, Raeburn set out to cycle 1000 kilometres over the Christmas period. He achieved his aim, but in doing so realised that the distance was about twice as far as he would have liked to ride. As a result, the Festive 500 challenge was born.
"It's not a mile-chasing thing, but rather a journey. It's about getting out there and just enjoying being on your bike," Raeburn said.
Hosted on Strava the challenge is simple in concept: cycle 500km between Boxing Day and the end of the year. But fitting the rides around a busy calendar packed with Christmas meals and festive drinks as well as the winter weather is anything but straightforward.
During the heights of the Covid pandemic, getting outside to ride wasn't always possible. Various lockdowns and restrictions imposed by different countries prevented people from getting outside on their bikes, so Rapha added the option of completing the challenge virtually on Zwift.
It was still possible to use Zwift for the challenge in 2021 and that will remain this year.
Here are our six tips to help you finish the challenge.
EAT LITTLE AND OFTEN
One of the absolute essentials of long distance riding is eating plenty.
We're not talking about huge three course meals every time you stop off somewhere, but little and often throughout the ride. With eating everyone is going to be different, but most cyclists will benefit from eating something every 20 minutes to half an hour on a ride that's over 100 kilometres in length.
You don't have to go for fancy energy gels or chews if they aren't your thing, flapjacks, bananas and other cereal bar type products will also work just as well. When I'm riding long distances, I'll also make sure to keep an emergency bag of Haribo or two in my bike bag as well. You never know when you might need it!
Drinking is also just as important. If you're thinking of taking part in the challenge this year, you may want to consider filling at least one of your bottles with one of the best energy drinks for cycling before setting off.
START BIG
When you're embarking on a challenge as big as this, then it's a good idea to consider kicking it all off with one big ride.
Trying to get close to 150 kilometres or so on the first day will significantly reduce the amount still left to cover, and will leave you feeling good ahead of the rest of the challenge.
Not only that, but it will also mean that you don't feel as guilty about taking time off over the festive period in order to devour a Christmas dinner or two, along with copious amounts of mince pies and mulled wine!
DRESS APPROPRIATELY
Getting your kit right for a long day in the saddle is absolutely essential. Not only that, but making sure you have a spare pair of gloves packed to change into later in the ride is a must, particularly if you're riding in the Northern Hemisphere in the heart of winter.
If you're in Northern Europe or North America, then chances are it's going to be pretty cold. That means that wearing some of the best winter tights around is a must, combined with a reliable long sleeved jersey that's going to keep your upper body nice and warm as you're clocking off the kilometres.
Perhaps the most important thing with dressing for winter riding though is keeping your extremities warm. If you don't have a pair of thick winter gloves to hand, then you're going to struggle. The same principle applies to having wet feet! Nobody wants that on a long ride in the heart of winter.
With that considered, then why not check out some of the best winter overshoes around to keep your feet nice and protected.
DON'T DO IT ALL ALONE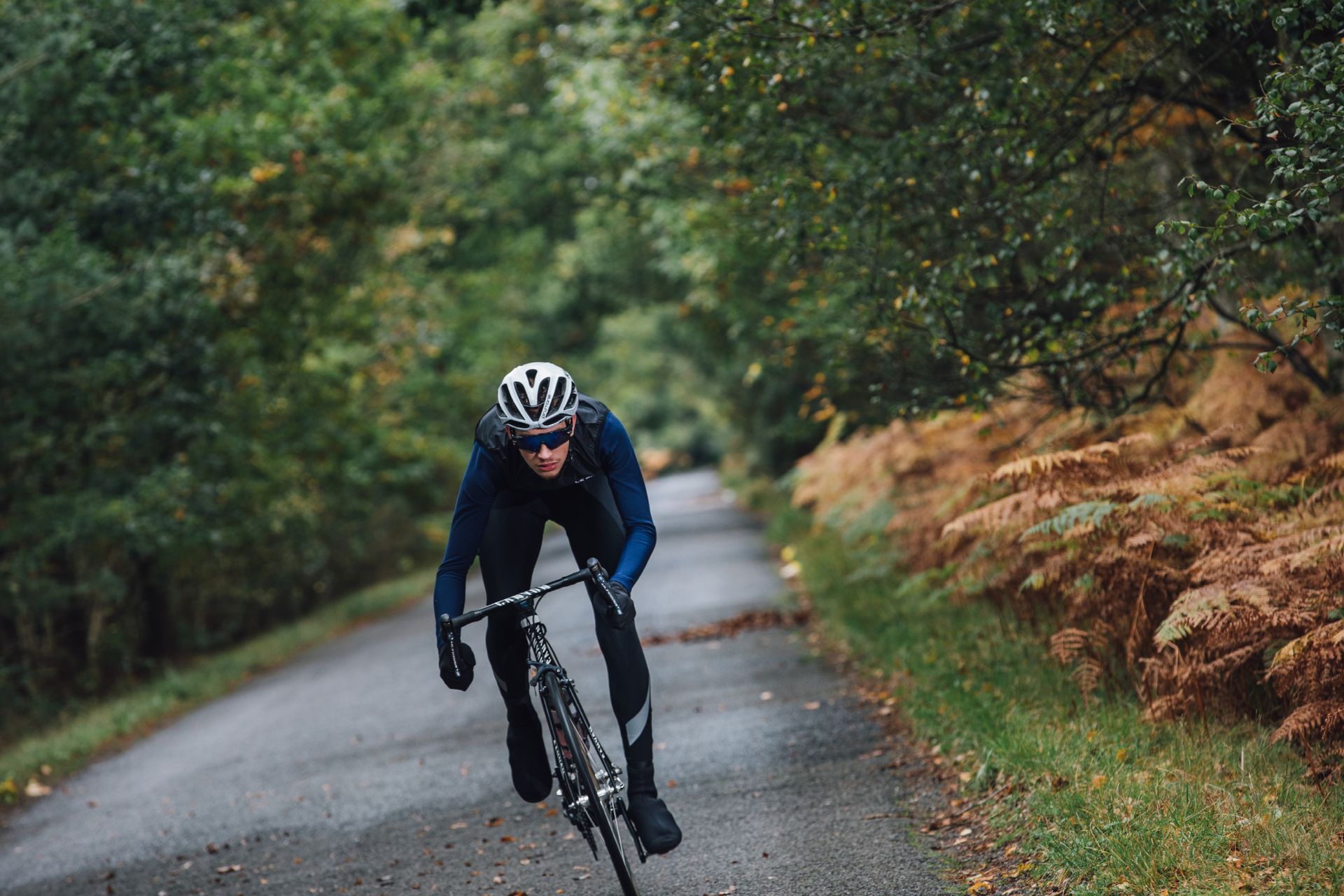 Unless you particularly enjoy the solitude of riding alone, then try and fit in a ride with a couple of others, or maybe even in a larger group environment at some point over the course of the eight days.
When you're two or three days into trying to reach 500 kilometres, you're soon going to find yourself getting pretty tired of just being alone in the cold.
Now's the time to reach out to friends in your local cycling club or family members who like their bikes. Maybe you'll be able to convince them to join you for a ride or two.
If you're riding with other people, you'll soon find that the time passes quicker along with the kilometres as you edge closer to your goals.
HAVE A DAY INDOORS
If you've spent all week out in the rain and snow, then you may have reached a point where you've had enough.
Luckily, the kind souls at Rapha have continued to allow the challenge to be completed online if you so wish. With that said, you can find a group ride on Zwift (opens in new tab) to join. There will be Festive 500 rides starting every two hours during the challenge to help you find a ride during the hectic festive period.
If you're an outdoor rider, typically used to the open road and you're new to indoor cycling, don't be afraid! Cycling Weekly writer Adam Becket was new to the wonderful world of indoor cycling too, but he gave it a whirl and documented his experiences.
There's a first time for everything after all, and you may thank us for the idea after several days of well over 100 kilometres in the cold.
DON'T TAKE RISKS
Riding throughout the winter can be unpredictable. Particularly in the Northern Hemisphere.
One day it might be pleasantly sunny with a light headwind or two, before it then suddenly turns into torrential rain and sleet. As much as you may want to complete the challenge, it's sometimes simply not worth the risk if the weather is at its worst.
Not only does heavy rain make you less visible to other road users, it could then turn to ice and if you hit a patch of black ice, it really is game over.
As tempting as it may be to finish the challenge, nobody is going to think any less of you if you skip a day due to crazy weather, and end up missing the overall target.
The same goes for injury. In colder weather it's easy to overdo it, and strain muscles in your legs. If you feel a pull or a twinge, then it really isn't worth pushing through the pain just to get that Strava badge.
Thank you for reading 10 articles this month* Join now for unlimited access
Enjoy your first month for just £1 / $1 / €1
*Read 5 free articles per month without a subscription
Join now for unlimited access
Try first month for just £1 / $1 / €1
Tom is a News and Features Writer at Cycling Weekly, and previously worked in communications at Oxford Brookes University. Alongside his day job, prior to starting with the team, he wrote a variety of different pieces as a contributor to a cycling website, Casquettes and Bidons, which included interviews with up and coming British riders.