BRITISH CYCLISTS' 2008 ROLL OF HONOUR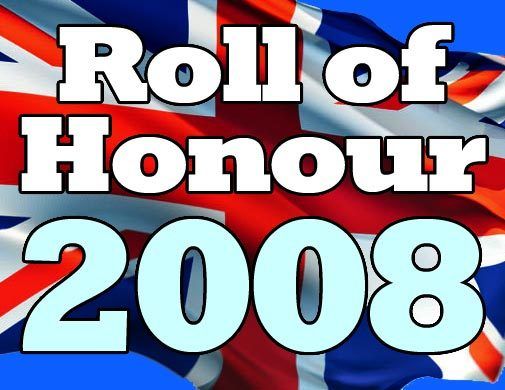 What a list. When you come to put together a definitive listing of every major title won by a British cyclist in 2008, the results make your eyes water.
Britain's dominance in human-powered two-wheel sport has been nothing short of dominant, we are currently the strongest cycling nation by dint of the fact that we have more world champions than any other country.
Here we round-up wins and medal positions in the Grand Tours, Olympic Games, World Championships and Paralympics in every cycling discipline, senior and junior.
HOW MANY SENIOR TITLES DOES GREAT BRITAIN HOLD?
TRACK nine out of 18
ROAD (road race and time trial) one out of four
MTB (downhill and cross-country) two out of four
BMX one out of two
CYCLO-CROSS zero out of two
HOW MANY OLYMPIC TITLES DOES GREAT BRITAIN HOLD?
TRACK seven out of nine
ROAD (road race and time trial) one out of four
MTB (cross-country) zero out of two
BMX zero out of two
Great Britain Roll of Honour 2008
GRAND TOURS
4 Tour de France stage wins - Mark Cavendish
2 Giro d?Italia stage wins - Mark Cavendish
OLYMPIC GAMES, Beijing, September
GOLD
Women?s road race - Nicole Cooke
Men?s team sprint - Chris Hoy, Jason Kenny, Jamie Staff
Men?s individual pursuit - Bradley Wiggins
Men?s Keirin - Chris Hoy
Men?s team pursuit - Ed Clancy, Paul Manning, Geraint Thomas, Bradley Wiggins
Men?s sprint - Chris Hoy
Women?s individual pursuit - Rebecca Romero
Women?s sprint - Victoria Pendleton
SILVER
Women?s time trial - Emma Pooley
Men?s Keirin - Ross Edgar
Men?s sprint - Jason Kenny
Women?s individual pursuit - Wendy Houvenaghel
BRONZE
Men?s points race - Chris Newton
Men?s individual pursuit - Steven Burke
WORLD ROAD RACE CHAMPIONSHIPS, Varese, September
GOLD
Women?s road race - Nicole Cooke
WORLD TRACK CHAMPIONSHIPS, Manchester, March
GOLD
Men?s individual pursuit - Bradley Wiggins
Men?s team pursuit - Ed Clancy, Bradley Wiggins, Paul Manning, Geraint Thomas
Men?s Madison - Bradley Wiggins & Mark Cavendish
Men?s sprint - Chris Hoy
Men?s Keirin - Chris Hoy
Women?s individual pursuit - Rebecca Romero
Women?s team pursuit - Rebecca Romero, Wendy Houvenaghel, Joanna Rowsell
Women?s sprint - Victoria Pendleton
Women?s team sprint - Victoria Pendleton, Shanaze Reade
SILVER
Men?s team sprint - Jamie Staff, Chris Hoy, Ross Edgar
Women?s Keirin - Victoria Pendleton
WORLD MOUNTAIN BIKE CHAMPIONSHIPS, Val di Sole, June
GOLD
Men?s downhill - Gee Atherton
Women?s downhill - Rachel Atherton
Junior men?s downhill - Josh Bryceland
SILVER
Men?s downhill - Steve Peat
Junior men?s downhill - Sam Dale
BMX WORLD CHAMPIONSHIPS, Taiyun, China, May
GOLD
Women?s elite - Shanaze Reade
PARALYMPICS, Beijing, September
GOLD
Men?s road race (LC3/4/CP3) - Darren Kenny
Mixed road race (CP1/CP2) - David Stone
Men?s time trial (CP1/2) - David Stone
Women?s time trial (LC1/2/CP4) - Sarah Storey -
Women?s time trial (HC A/B/C) - Rachel Morris
Men?s individual pursuit (CP3) - Darren Kenny
Men?s individual pursuit (LC3) - Simon Richardson
Men?s team sprint - Mark Bristow, Jody Cundy, Darren Kenny
Men?s sprint (B&Vi) - Anthony Kappes & Barney Storey
Men?s kilometre (CP3) - Darren Kenny
Men?s kilometre (LC3-4) - Simon Richardson
Men?s kilometre (LC2) - Jody Cundy
Men?s kilometre (LC1) - Mark Bristow
Men?s kilometre (B&Vi) - Anthony Kappes & Barney Storey
Women?s pursuit (LC1/2/CP4) - Sarah Storey
Women?s pursuit (B&Vi) - Aileen McGlynn & Ellen Hunter
Women?s kilometre (B&Vi) - Aileen McGlynn & Ellen Hunter
SILVER
Men?s time trial (CP3) - Darren Kenny
Men?s time trial (LC3) - Simon Richardson
Men?s kilometre (CP3) - Rik Whaddon
RELATED LINKS
The all-time list of British pro winners
Cycling Weekly 2008 News Review
The Wednesday Comment Review of the Year