British National Champs head to Newcastle in 2011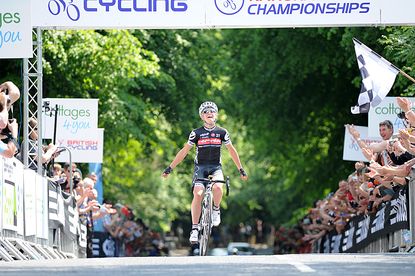 Newcastle-upon-Tyne will host the 2011 British National Championship road races in June as part of the annual Northern Rock Cyclone cycling festival.
The men's and women's elite road races will take place on Sunday, June 26, on the roads in and around Newcastle.
Peter Harrison, organiser of the Northern Rock Cyclone said: "Bringing the men's and women's National Elite Road Race Championships to the north east on the same weekend as the Northern Rock Cyclone is a massive high point for me. I'm proud that years of hard work developing cycle racing in the north east have paid off."
British Cycling cycle sport and membership director Jonny Clay added: "The National Road Championships is the biggest single day road event here in the UK and we look forward to seeing its continued development when we visit the north east in 2011.
"The quality of the field that the National Championships is able to generate now is testament to the growth of our sport in the UK and we look forward to seeing those riders do battle over a great course that will see a worthy national champion decided."
The Northern Rock Cyclone weekend kicks off on Friday, June 24, with the Leazes Criterium. The following day, Saturday June 25, is the Northern Rock Cyclone cyclo-sportive, featuring 33, 63 and 104-mile routes. Entries for the sportive will open on November 1, 2010.
External link
Thank you for reading 20 articles this month* Join now for unlimited access
Enjoy your first month for just £1 / $1 / €1
*Read 5 free articles per month without a subscription
Join now for unlimited access
Try first month for just £1 / $1 / €1