BRITS CONTINUE TO DOMINATE ON THE TRACK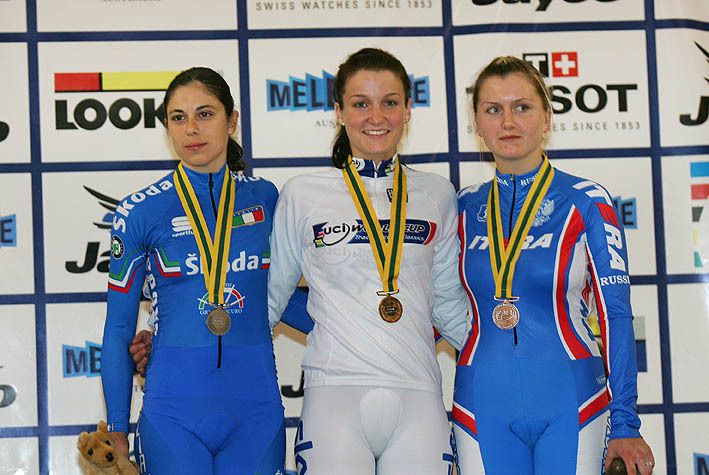 This winter, everything Britain's track riders have touched has turned to gold.
Or failing that, silver, or bronze.
In fact, Britain have won medals in 81.5 per cent of the World Cup track events they've contested this season, which is a truly remarkable strike rate.
Britain may only have fielded small teams at recent rounds of the track World Cup, but their level of success is staggering.
At the weekend, only five British riders travelled to the Laoshan velodrome in the Chinese capital, scene of all that success last summer.
They entered three events, all men?s endurance races, and came away with a gold and two silver medals.
Chris Newton won the points race and was second in the scratch, while the blend of youth and experience paid off as Peter Kennaugh and Rob Hayles were runners-up to Team Toshiba in the Madison.
It means that this season, British riders have won medals in a staggering 22 of the 27 World Cup events they have entered. That?s an outstanding ratio of success.
The full tally is 18 gold medals, five silvers and four bronzes from the 27 races entered.
After dominating the opening round of the World Cup on home turf in Manchester at the start of the winter, British Cycling have sent only skeleton teams to Melbourne, Cali and Beijing.
But they are set to return to full-strength in Copenhagen next month (February 13-15) as the squad completes its preparations for the World Championships, which will be held in Poland in March.
Success in Manchester was no surprise, even if some of the big hitters were rested. After a near-perfect Olympic Games, the opening World Cup was a victorious homecoming. Many of the other major nations fielded weakened teams, the Australians stayed away. Since then, British Cycling has taken the opportunity to rest the Olympic stars, blooding younger riders as they have concentrated on trying to qualify for World Championship places in the endurance events.
In Melbourne the rapidly-emerging women?s endurance riders won three gold medals, with Jo Rowsell taking the individual pursuit, Lizzie Armistead the scratch race and the Rowsell, Armitstead and Katie Colclough trio the team pursuit.
Just two riders went to Cali, Colombia, for third World Cup shortly before Christmas and Peter Kennaugh came away with silver in the points race.
And in Beijing at the weekend, the British team medalled in all three races they contested.
HOW BRITAIN?S RIDERS HAVE DOMINATED WHENEVER THEY?VE RACED
MANCHESTER
October 31-November 2, 2008
Events entered by British riders: 17/17
Events medalled in: 15/17
Total medal haul: 14 gold, 2 silver, 4 bronze
MELBOURNE
November 20-22, 2008
Events entered by British riders: 4/17
Events medalled in: 3/4
Total medal haul: 3 gold
CALI
December 11-13, 2008
Events entered by British riders: 3/17
Events medalled in: 1/3
Total medal haul: 1 silver
BEIJING
January 16-18, 2008
Events entered by British riders: 3/17
Events medalled in: 3/3
Total medal haul: 1 gold, 2 silvers
LATEST WORLD CUP RANKINGS
January 19: after Manchester, Melbourne, Cali and Beijing rounds. Final World Cup is in Copenhagen, February 13-15.
MEN
Individual pursuit
1 Vitaly Shchedov (Ukraine) 28pts
2 Valery Kaykov (Lok) 24pts
3 Eloy Teruel Rovira (Spain) 14pts
7 Ed Clancy (Great Britain) 12pts
22 Mark Christian (Team 100% ME) 4pts
Team pursuit
1 Spain 24pts
2 Germany 18pts
3 New Zealand 17pts
10 Great Britain 12pts
Points race
1 Chris Newton (Great Britain) 25pts
2 Glenn O?Shea (Team Toshiba) 18pts
3 Eloy Teruel Rovira (Spain) 18pts
8 Peter Kennaugh (Great Britain) 10pts
Scratch race
1 Tim Mertens (Belgium) 20pts
2 Zachary Bell (Canada) 16pts
3 Rafal Ratajczyk (Poland) 15pts
7 Chris Newton (Great Britain) 10pts
15 Luke Rowe (Team 100% ME) 7pts
27 Bradley Wiggins (Great Britain) 4pts
Madison
1 Germany 28pts
2 Spain 27pts
3 Team Toshiba 25pts
5 Great Britain 20pts
18 Team 100% ME 3pts
Sprint
1 Shane Perkins (Australia) 30pts
2 Michael D?Almeida (USC) 24pts
3 Kevin Sireau (Cofidis) 15pts
5 Jason Kenny (Sky+HD) 12pts
11 Matt Crampton (Great Britain) 8pts
15 David Daniell (Great Britain) 6pts
Keirin
1 Azizulhasni Awang (Malaysia) 24pts
2 François Pervis (Cofidis) 20pts
3 Teun Mulder (Netherlands) 16pts
11 Jason Kenny (Sky+HD) 10pts
22 Matt Crampton (Great Britain) 4pts
Team sprint
1 Cofidis 30pts
2 Germany 28pts
3 Team Toshiba 22pts
8 Sky+HD 12pts
1km
1 Li Wen Hao (China) 30pts
2 Yevhen Bolibrukh (Ukraine) 27pts
3 Kamil Kuczynski (Poland) 16pts
7 David Daniell (Great Britain) 12pts
WOMEN
Individual pursuit
1 Vilija Sereikaite (Lithuania) 22pts
2 Joanna Rowsell (Team 100% ME) 20pts
3 Tara Whitten (Canada) 18pts
9 Wendy Houvenaghel (Great Britain) 12pts
Team pursuit
1 New Zealand 17pts
2 Germany 16pts
3 Ukraine 16pts
6 Great Britain 12pts
7 Team 100% ME 12pts
Points race
1 Giorgia Bronzini (Italy) 20pts
2 Jarmila Machacova (Czech Republic) 18pts
3 Leire Olaberria Dorronsoro (Spain) 17pts
6 Lizzie Armitstead (Team 100% ME) 12pts
9 Lucy Martin (Great Britain) 10pts
11 Katie Colclough (Team 100% ME) 8pts
Scratch race
1 Lizzie Armitstead (Team 100% ME) 24pts
2 Evgeniya Romanyuta (Russia) 24pts
3 Annalisa Cucinotta (Italy) 22pts
12 Alexandra Greenfield (Great Britain) 8pts
Sprint
1 Lyubov Shulika (Ukraine) 30pts
2 Simona Krupeckaite (Lithuania) 24pts
3 Lulu Zheng (China) 23pts
5 Victoria Pendleton (Sky+HD) 12pts
14 Anna Blyth (Great Britain) 7pts
Keirin
1 Simona Krupeckaite (Lithuania) 24pts
2 Willy Kanis (Netherlands) 20pts
3 Elisa Frisoni (Italy) 13pts
5 Victoria Pendleton (Sky+HD) 12pts
18 Anna Blyth (Great Britain) 6pts
23 Jessica Varnish (Great Britain) 3pts
Team sprint
1 Netherlands 24pts
2 Germany 20pts
3 France 19pts
6 Great Britain 12pts
500m
1 Jinjie Gong (China) 30pts
2 Simona Krupeckaite (Lithuania) 24pts
3 Kaarle McCulloch (Team Toshiba) 15pts
8 Victoria Pendleton (Sky+HD) 12pts
RELATED LINK
International track results 2008-2009