BRITS SMASH TEAM PURSUIT WORLD RECORD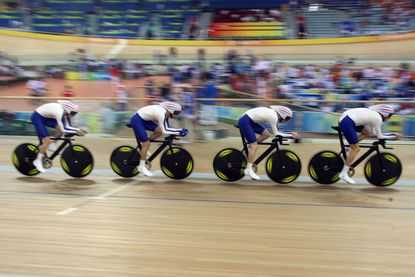 The British team pursuit squad smashed their own world record tonight, setting a new mark of 3-55.205 minutes as they punched their way in to the gold medal final tomorrow night.
If they repeat that ride, or better it, it will surely bring gold number six to the British cyclists, a unthinkable achievement before this competition began, even by their very own high standards. The quartet of Ed Clancy, Geraint Thomas, Paul Manning and Bradley Wiggins got on the track knowing they had to set a fast time as at long long last the other nations had come out and put some pressure on them.
In the morning's qualifying round New Zealand were the only other team other than the Brits to beat the four minute mark, and it looked as if the event was going to turn in to a foregone conclusion. But then the Danes, the team that pushed the Brits to their world record in Manchester, got up and posted a time of 3-56.831 minutes.
When New Zealand did a 3-57.536 there was a little bit of pressure landing on the Brits, but it looks like that's exactly what they needed. They had their opponents Russia in sight within two kilometres, as the record was always on.
Wiggins swung up with a little under a kilometre to go but the remaining three had it all under control as they hit that magic number of 3-55, one they've had as a target since the Athens Games. They nearly bypassed the number altogether and went straight to 3-54, a figure that's easily in reach considering it wasn't particularly warm inside the Laoshan velodrome and the track's tight bankings aren't best suited to pursuiting.
Great Britain will ride for gold against the Danes tomorrow afternoon, while they're old foes Australia will only ride for gold after losing their form in the last lap of their ride to post 3-58.633. THeirs was the slowest time, making this the first time that all four finalists rode under the four minute mark in one competition.
The flying British quartet stop the clock a whole second faster than their previous best. They could go even faster tomorrow night if the conditions are right. photo: Graham Watson
Nothing much to say about this one, just thought you'd like to see this cracking picture. Photo: Graham Watson
Swipe to scroll horizontally
OLYMPIC GAMES 2008: TRACK
Day two in pictures
Sunday's action as it happened
Preview: Sunday at the Laoshan
Day two at the track: Summary of the action
Hoy and Edgar clean up in the Keirin
Wiggins gets pursuit gold, Burke wins bronze
Newton storms to bronze in points race
Saturday's action as it happened: Two gold, a silver and two bronze for Britain
Blog: Life in Laoshan
Day one in pictures
Brits blast to team sprint gold
Day one at the track: Summary of the action
Friday's action as it happened: Gold for team sprint trio; Wiggins, Houvenaghel and Romero well in control
Burke blasts to new individual pursuit PB
British track stars raring to go
What makes the Laoshan such a challenge
Picture special: CW takes you inside the Laoshan velodrome
Saturday's preview
Friday's preview
Can these legs make an Olympic champion?
Cavendish unlikely to ride individual pursuit
How many medals will Britain's riders win?
Swipe to scroll horizontally
Positive test for cyclist at Olympic Games
Bettini chasing second Olympic gold
Romero poses nude for ad
British quartet eyeing new world record
As Olympics approach two new drugs emerge
Beijing Blog
Beijing Blog 2
Beijing Blog 3
Swipe to scroll horizontally
Picture special: Women's time trial
Cancellara wins men's time trial gold
Men's time trial reaction: Steve Cummings on his ride
Women's time trial reaction: I feel fantastic, says Pooley
Pooley wins silver in women's time trial
Cooke's secret was the skinsuit
What the papers say... about Nicole Cooke
Analysis: women's road race
Gold for Nicole Cooke in Women?s road race
Reaction: It?s a dream to win Gold, says Cooke
Women's Olympic road race picture special
Sanchez gives Spain gold in thrilling men?s road race
Who is Samuel Sanchez?
Tactical analysis: Reading the men?s Olympic road race
British riders suffer in hot and humid Olympic road race
Rebellin misses out on golden birthday
Brailsford confident ahead of women?s road race
Swipe to scroll horizontally
OLYMPIC GAMES 2008: GUIDE
Olympics cycling results>>
Cycling event schedule>>
Great Britain rider profiles>>
Cycling event guide>>
Photo gallery>>
Every British cycling medal ever won at the Olympic Games
From paupers to kings: The lottery funded revolution>>
Track results at the Worlds and Olympics 2004-2008
Thank you for reading 20 articles this month* Join now for unlimited access
Enjoy your first month for just £1 / $1 / €1
*Read 5 free articles per month without a subscription
Join now for unlimited access
Try first month for just £1 / $1 / €1