Bussell crowned new National Hill-Climb champion as Sennema defends her title
Women's contest saw Maryka Sennema defend her 2014 title as Richard Bussell added the hill-climb to his National-10 title - Photos by Andy Jones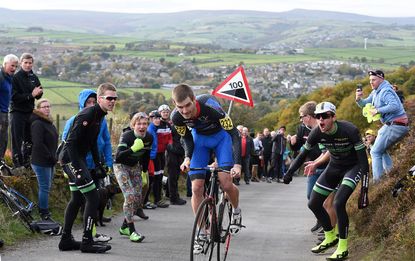 (Image credit: Andy Jones)
Maryka Sennema (Paceline RT) successfully defended her 2014 title in the National Hill-Climb Championships, but there was a new men's champion with Richard Bussell (RST Sport-Aero Coach) taking the honours.
Bussell, the 26-year-old who is also the National 10-Mile champion, was almost five seconds ahead of defending champion Dan Evans (Cannondale UK - Team Elite) on the 0.9-mile Jackson Bridge climb near Holmfirth in West Yorkshire, while Joe Clark (Envelopemaster) was six seconds off Bussell's pace in third.
>>> Check out the facial expressions at the Bec Hill Climb (video)
Sennema was just 2.3 seconds ahead of multiple national champion and GB rider Hayley Simmonds (Team Velosport) who had won the University hill-climb title the day before, while last year's runner-up Lou Bates (Carnac Planet X) was third fastest female, another 0.7 off the pace.
Bussell, who won the Catford CC hill-climb and placed second in the Bec event the same day, had only won two hill-climbs in comparison to Evans' eight prior to the Nationals, but had the power to take victory by a comfortable margin.
The course had been extended by 80 yards due to logistical reasons, meaning a new course record was set. The previous long-standing course record of 3:49.9 set in 1994, belonged to Jeff Wright, who was present at this year's event.
"It was a lot harder today than when I won the ten-mile championship," said Bussell. "My preparation was a lot harder for this event.
"I really had to concentrate on losing weight and I've lost six kilos since I won the ten-mile title. I'm going to make up for that tonight and eat as much as I like! But hopefully I will be back next year to defend both my titles."
And women's winner Sennema added: "I'm happy the season is over! It was closer today, and nice to see so many girls now taking hill climbs seriously. I'm half a kilo over weight which would make it easier."
Thank you for reading 5 articles this month* Join now for unlimited access
Enjoy your first month for just £1 / $1 / €1
*Read 5 free articles per month without a subscription
Join now for unlimited access
Try first month for just £1 / $1 / €1