'Can we rid Monmouthshire of pesky cyclists now Velothon is over?' councillor asks
Cllr Graham Down admits his thoughts on "pesky cyclists" are generalisations and jokes about having a bag of tacks to throw at Velothon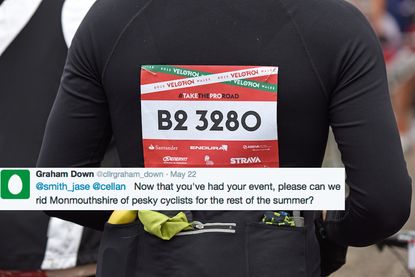 (Image credit: Andy Jones)
While organisers of Velothon Wales hailed the event a success, a local councillor took the opportunity on Twitter to call for "pesky cyclists" to stay off the roads for the rest of the summer.
The sportive and elite race took place on Sunday on closed roads around south Wales, with concerns raised by local MPs and businesses that the excessive closures would affect business.
>>> Local MP bemoans 'massive inconvenience' caused by upcoming Velothon Wales race
But Councillor Graham Down, of Monmouthshire County Council, tweeted the day before the event joking that he had a bag of tacks to throw on the road and then called on cyclists to stay off the road for the rest of the summer.
http://twitter.com/cllrgraham_down/status/734443815084363777
When questioned online as to why he classified cyclists as "pesky", Cllr Down offered a list of what even he admitted were generalised stereotypes.
A series of tweets read: "Blocking the carriageway so other road users can't pass safely, riding in groups several abreast so that the road's blocked...
".. riding on FOOTpaths, pavements and pedestrian areas, using PEDESTRIAN crossings as though they were cyclists' crossings ..
" .. ignoring red lights, cycling the wrong way up one way streets, chaining bikes to railings and blocking pavements ..
".. not using lights or wearing reflective tops at night, believing they are above the law and generally acting in a way which is inconsiderate, arrogant, & self-righteous. That do for starters?"
>>> Chris Boardman explains why cyclists ride two abreast in new safety video
Cllr Down says these are things he sees on a regular basis and offered to talk to those who disagreed with his views.
Matt Newman, chief executive of Run4Wales, which assisted in delivering Velothon, told the Abergavenny Chronicle after the event: "The success of today's event is testament to the hard work of all the stakeholders involved in the planning and delivery of the event and more than 1,500 staff and volunteers working on the day.
"Initial feedback from those who took part has been overwhelmingly positive and the increased communication to residents and businesses prior to the event helped to reduce disruption on the day.
"We will continue to make improvements to all aspects of the race for next year and we are already looking forward to the third Velothon Wales in 2017."
Thank you for reading 20 articles this month* Join now for unlimited access
Enjoy your first month for just £1 / $1 / €1
*Read 5 free articles per month without a subscription
Join now for unlimited access
Try first month for just £1 / $1 / €1