Chris Boardman explains why cyclists ride two abreast in new safety video
In the second in a series of cycling safety videos, Chris Boardman describes how riding side-by-side can be safer for both rider and motorist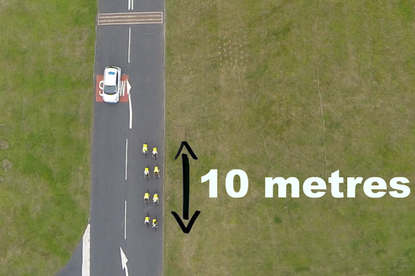 Earlier this week Chris Boardman advised motorists how to safely overtake cyclists and now he's back with driving instructor Blaine Walsh to explain why cyclists are allowed to ride side-by-side.
In the video by Carlton Kirby, Boardman informs viewers that according to the Highway Code, cyclists are encouraged to cycle no more than two abreast, meaning that side-by-side riding is perfectly legal and often safer for all involved.
>>> Watch: Chris Boardman explains how to safely overtake cyclists
While it is a common gripe of motorists when they come across a bunch of cyclists taking up the road, but as Boardman explains in the video it's quicker and safer to overtake a group riding two abreast than it is to pass a long line of single file riders.
"Think of it like this," he says. "In your car you have the driver's seat and the passenger seat, that makes a car suitable for two people to travel next to each other. Cyclists riding next to each other are doing the same thing, maybe chatting just like you would do in a car."
>>> Boardman: Helmet debate being used to avoid making real decisions
He added: "Cyclists will thin out into single file when it's safe for cars to pass if it is the most appropriate action."
While eight riders riding side-by-side may take up 10 metres of road space, the same eight riders in single file will take up 20m, meaning it is more difficult and less safe for a driver to overtake.
If a driver is to give a cyclist the space recommended in Boardman's previous video - i.e. passing onto the other side of the road when passing - then it's quicker and safer to pass.
Thank you for reading 20 articles this month* Join now for unlimited access
Enjoy your first month for just £1 / $1 / €1
*Read 5 free articles per month without a subscription
Join now for unlimited access
Try first month for just £1 / $1 / €1