Local MP bemoans 'massive inconvenience' caused by upcoming Velothon Wales race
David Davies MP warns that local businesses will miss out on trade as road closures affect the Monmouthshire area during Velothon Wales on Sunday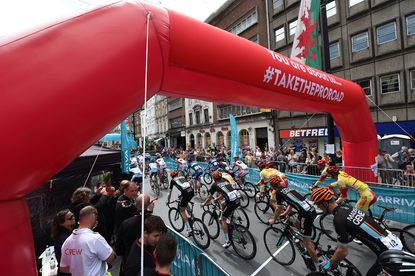 (Image credit: Andy Jones)
With Velothon Wales set to take place on Sunday (May 22), Monmouth MP David Davies is warning that many local businesses and residents will be inconvenienced by the race.
Local MPs were vocal opponents of the race last year, and while Mr Davies admits the communication between organisers and the people of Monmouthshire he remains unhappy that the race is taking place at all.
According to the Abergavenny Chronicle, the event brings an estimated £2m to the local economy, but last year the extensive road closures were criticised by local residents.
"I am not at all happy about it. It doesn't bring anything into the local economy in Monmouthshire. This is not going to bring in business for anyone running a pub or a hotel in Monmouthshire – it will mean they miss out on business," Mr Davies told the paper.
"I recently attended a public meeting in Llanfoist which was addressed by representatives of the Velothon. I accept that there is a much greater willingness this year to talk to people affected and to get out information.
"I am also hopeful that much more flexibility will be shown on the day towards people who need to get in or out of their homes or businesses.
"Having said that the organisers need to be aware that this is going to cause massive inconvenience for a large number of people and financial losses for some businesses."
What to pack for every sportive
Local hotelier Tim Strong warned that each of his premises could lose £2,000 because bookings were down 90 per cent due to the race being in town, claiming the race only benefits people in Cardiff, where the race starts and finishes.
>>> Welsh MP: I hope Velothon Wales will not come through my constituency again
Pub owner Richard Jones says he has no booking on race day, with excessive road closures meaning people can't get to his establishment.
He told the Chronicle: "Sunday is very lucrative here. We have regulars who can't come. Even my parents are unable to make it in. It affects people in so many ways, people don't realise the knock-on effect. They're shutting the road, and it isn't even coming past here!
"It doesn't bring anything to the economy, not for us anyway. I mean, the spectators bring their own sandwiches. If anything, it takes thousands out of the economy."
Velothon Wales offers a closed-road sportive for amateur cyclists as well as a UCI-sanctioned professional race, with some roads closed between the hours of 7.45am and 5.15pm.
"Detailed consultation has taken place with five local authorities involved along the 140km route, as with all major shareholders involved. Everyone is on the same page regarding the delivery of this exciting event," said Matt Newman of organisers Run 4 Wales.
"More than 100,000 letters have been sent to residents and businesses, providing detailed road closure information. Many of those worst affected have been contacted in person.
"We are confident many of the concerns raised have been dealt with and that this year's Velothon will be another fantastic sporting occasion for Wales, and a wonderful experience for the thousands of riders taking part."
Thank you for reading 20 articles this month* Join now for unlimited access
Enjoy your first month for just £1 / $1 / €1
*Read 5 free articles per month without a subscription
Join now for unlimited access
Try first month for just £1 / $1 / €1