Welsh MP: I hope Velothon Wales will not come through my constituency again
Wayne David says the Velothon caused huge disruption and near chaos in his constituency, as businesses were forced to close and residents were unable to use the roads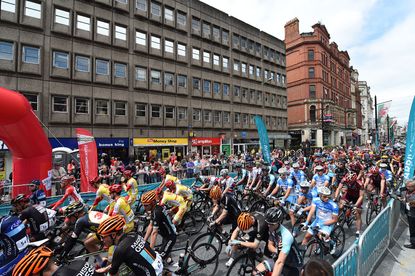 (Image credit: Andy Jones)
MP for Caerphilly, Wayne David, has slammed the Velothon Wales event which saw 15,000 cyclists riding though his constituency at the weekend, claiming the ride caused 'chaos'.
Roads were closed around the 174km route, which caused such consternation among local residents that tacks were laid on the road, causing injuries to riders and damage to cars.
And Mr David (Labour) accepts the good intentions of the race, but would prefer not to see the race return to Caerphilly in future.
The South Wales Argus quote Mr David as saying: "For the people of Caerphilly, [Sunday] was a nightmare. Roads were closed, sometimes before the time on the advertised schedules, and information about the Velothon road closures were not widely distributed."
"I have had hundreds of people complaining to me about how the Velothon caused huge disruption and near chaos.
"While I appreciate that the Velothon might be good for Wales and a lot of money for charity has been raised, I very much hope that the Velothon will not include Caerphilly in future."
>>> Tacks found on Cambridge towpath believed to have been spread deliberately
Dr Gareth Enticott required surgery after crashing on the tacks, while Alec James tweeted that he hit the deck at 35mph after suffering a puncture in the area.
On the same spot, before the race, several cars suffered flat tyres and one even blew out after driving over the tacks.
It's not the first incidence of saboteurs sprinkling tacks on the road in South Wales, with several riders suffering punctures on a dangerous descent in the Valleys Velo sportive last October.
Following Mr David's comments, Newport East MP Jessica Morden added: "It's wonderful to see so many messages from those taking part in the Velothon appreciating what a wonderful part of the world this is.
"However there are certainly lessons to learn for the organisers and Welsh Government. Clearly the communication strategy could have been improved and I have raised this on behalf of constituents who have contacted me."
Thank you for reading 20 articles this month* Join now for unlimited access
Enjoy your first month for just £1 / $1 / €1
*Read 5 free articles per month without a subscription
Join now for unlimited access
Try first month for just £1 / $1 / €1