Martin Mortensen takes victory in inaugural Velothon Wales
Danish pro goes solo to win the UCI ranked race, with thousands of amateur riders taking to the streets in the pre-race sportive. Photos by Andy Jones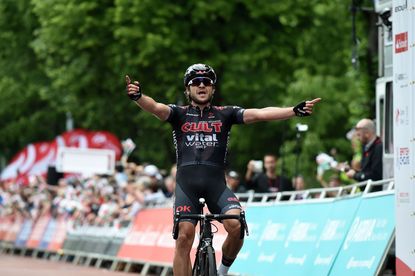 (Image credit: Andy Jones)
Martin Mortensen of Danish Pro Continental team Cult-Energy Pro Cycling won the inaugural Velothon Wales race in Cardiff, surviving a breakaway to solo to the line for his first win on British soil, while his teammate Russell Downing finished in fourth.
The 30-year-old Dane proved that if at first you don't succeed, you try and try again after escaping in breakaways twice during the race. It was his second attempt that stuck and delivered him to within 1km of the line, where he attacked and sprinted alone to the finish. Cardiff-native Owain Doull (Team Wiggins) finished in 11th place.
The event, ranked 1.1 by the UCI, debuted with a tricky 174km route that started and finished in the Welsh capital and included two ascents of The Tumble and Caerphilly Mountain.
>>> Six amazing breakaways (video)
It was before the Tumble that Mortensen attacked for the second time, alongside Ignatas Konovalovas (Team Marsaille 13-KTM) and Gregory Habeaux (Wallonie-Bruxelles). At 5km to go the trio still had a gap of around 30-seconds before Mortensen sprinted to the finish.
"The last time on the climb [Caerphilly Mountain] at 12k to go I was just doing a good tempo because I know I was faster than the two other guys in the sprint, and then I think with 5k there was a sign that we had 30 seconds. We still worked really well together then we had 40 seconds or something. I dropped the guys with 1k to go," Mortensen said.
"This is my first time racing in Wales but I did the Tour of Britain and I did Yorkshire [Tour de Yorkshire] last time, and my family live here so it's nice."
Earlier in the day, more than 13,000 riders took part in the two sportive routes of 50 and 140km, with the opportunity to ride on closed roads proving a big draw for many.
Cathy Johnson, 50 travelled from Bedford to take part in the event. "I really enjoyed it, the closed roads are brilliant, absolutely brilliant," she said.
"I've done the Wiggle ones, Evans ones [sportives] closed roads make the difference. I've done both London Pru rides [RideLondon] — it certainly compares to them, I did the Tour of Cambridge last week, it compares to that. I'd like to come back."
Despite high spirits at the finish and riders praising the amount of local support along the route, tacks thrown on the road early in the morning somewhat marred the event. Cyclists on the long sportive route reported a number of riders punctured, while more were forced to dismount and carry their bikes.
"A small number of tacks were discovered at around 9.30am on isolated sections of the route at Belmont Road in Caerleon and 10.21 at High Street/New Road in Caerphilly," said Andy Taylor, event director. "Fortunately no accidents or injuries were caused and the affected areas were cleared within a few minutes."
Mark Cavendish on the Tour de France
Thank you for reading 10 articles this month* Join now for unlimited access
Enjoy your first month for just £1 / $1 / €1
*Read 5 free articles per month without a subscription
Join now for unlimited access
Try first month for just £1 / $1 / €1