Six amazing breakaways (videos)
Who doesn't love a good breakaway? Here at Cycling Weekly, we've put together six of our favourites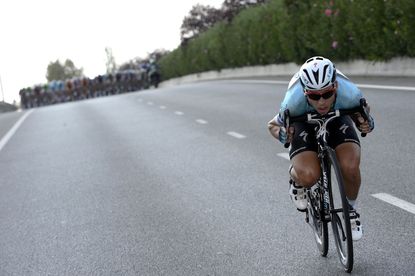 (Image credit: Watson)
Mark Cavendish, Robbie McEwen and Djamolidine Abdoujaparov might disagree, but there's nothing quite like a good breakaway. Pete Kennaugh took his moment in the sun after an opportunistic effort on the opening day of the Critérium du Dauphiné, Romain Bardet followed suit, and then Vincenzo Nibali took advantage of his own five-man escape on stage six to work his way into the overall race lead.
All of which came on the back of a Giro d'Italia which had been chock-full of breaks, topped off by a surprise final-stage win for Iljo Keisse (more of whom later).
So often a wasted effort - hours out alone that can ruin the rest of a rider's race - sometimes an attack can lead to so much more, be that a historic stage win, the limelight of public adoration or even, on the odd occasion, a yellow jersey.
Below, we present six breakaways that have stuck in our minds here at Cycling Weekly. We don't pretend that it's a definitive list, but we like 'em.
Carlos Sastre, stage 17, Tour de France 2008
https://www.youtube.com/watch?v=qxFPAFj6XDM
At 49 seconds back from the yellow jersey of Frank Schleck, and with a time trial to come at which Cadel Evans was expected to gain a chunk of time, Sastre didn't just have to attack on the Alpe d'Huez - he had to attack from the bottom.
So he did, stealing a march on his rivals thanks to a herculean effort from his CSC team, which had kept the pace high all stage in order to ensure that they would not be able to respond to Sastre's attack. The victory put more than two minutes into Evans, sending Sastre on his way to an incredible overall race victory, sealed by a mere 58 seconds.
>>>The closest Tours in history
Jens Voigt, stage 13, Tour de France 2006
https://www.youtube.com/watch?v=X46UWhbDBxk
Another one where the consequences of the break were as significant as the result itself. On the 231km stage from Béziers to Montélimar - the Tour's longest stage, on probably its hottest day - the race was barely 30km in before five men made their move.
The 34-year-old Jens Voigt was one of them, Oscar Pereiro - a solid pro but, let's be honest, not much more - another. The Spaniard started the stage the best part of half an hour back from the yellow jersey, and in 46th place overall. You don't win Tours from there, but after putting 29-57 into the field that day, that's exactly what Pereiro did.
A caveat, of course - it took Floyd Landis being disgraced before the record books would recognise his triumph. But a win, as they say, is a win.
Tony Martin, stage six, Vuelta a Espana 2013
https://www.youtube.com/watch?v=BZNgFiovZgk
Proof, if it were needed, that a memorable breakaway doesn't mean that the escapee needs to win. Three-time world time trial champion Tony Martin was on the attack from the opening kilometre of the 175km stage from Guijuelo and Caceres.
His lead, at one point seven minutes, was down to seconds with five kilometres to go, but somehow he held on to stay out in front under the flamme rouge. It was touch-and-go in the final straight; in the end, he would fall agonisingly short.
And there is, at least, something of a happy ending, as the German would have his Tour moment on stage nine in 2014 after shaking off fellow escapee Alessandro de Marchi. Once a time trialler, always a time trialler, he added afterwards: "I knew they were getting closer so I decided to go on my own and make my time trial last 50 or 60 kilometres. I'm really proud."
Iljo Keisse, stage seven, Tour of Turkey 2012
https://www.youtube.com/watch?v=3ru3vGR8nck
This one's memorable not for the breakaway itself as for how it ended. With about 6km of the stage to go, Iljo Keisse pulled away from his seven-man group and struck for home. Within the final kilometre, victory looked assured - as did the Belgian.
Perhaps too much so, as he leant into a tight right-hander, overbalanced and hit the deck. But that assurance would yet serve him well. Unperturbed either by a dropped chain or a peloton that was steaming up behind him, he calmly remounted and hit the gas for the final stretch. With Carlton Kirby on commentary approaching the verge of combustion, he made it, too.
>>>Who said it: cycling commentator or Alan Partridge?
Thomas Voeckler, stage 16, Tour de France 2012
https://www.youtube.com/watch?v=FuHExdx5ol8
Ah, Thomas. The most recent Grand Tour victory for the man who has made a career out of keeping nothing back was one of his best. Across four climbs bearing the collective name of the Circle of Death, his breakaway group was whittled down from an unwieldy 38 until, on the slopes of the Col de Peyresourde, he dropped the last man who could stay with him, fellow Frenchman Brice Feillu.
As the video highlights show, he was enjoying it for a good couple of hundred metres before the line; and quite right too - it was a sterling effort, which almost doesn't need the stirring soundtrack. Bravo! Chapeau! Vous etes extraordinaire, Monsieur Voeckler!
Indeed so.
>>>Video: Thomas Voeckler berates Dutch Tour de France fans after being booed
Thierry Marie, stage six, Tour de France 1991
http://www.youtube.com/watch?v=-YtwkwLrFs4
One from the archives, this, but surely one of the greatest. You will have to scroll 26 minutes in to the video to find it, but it is worth the wait. Taking on 234km on his own - to describe it as a marathon would quite literally not do it justice - in what appear to be Castorama-branded dungarees, Marie pulled out to 21 minutes clear at one stage.
His advantage nose-dived as he tired, but the 1-54 that remained at the finish line was enough to take him from 12th place temporarily into the yellow jersey. "It was horrible," he said afterwards about the final 20km. "I didn't know where I was."
It may not have been the longest solo breakaway - that honour belongs to Albert Bourlon, who stayed out for 253km in 1947 - but it was one of the most glorious. You'll even forgive him the little song 28 minutes into the footage.
>>>Singers record love song dedicated to Alberto Contador (video)
Thank you for reading 20 articles this month* Join now for unlimited access
Enjoy your first month for just £1 / $1 / €1
*Read 5 free articles per month without a subscription
Join now for unlimited access
Try first month for just £1 / $1 / €1