Singers record love song dedicated to Alberto Contador (video)
Prepare to hear something the likes of which you have never heard before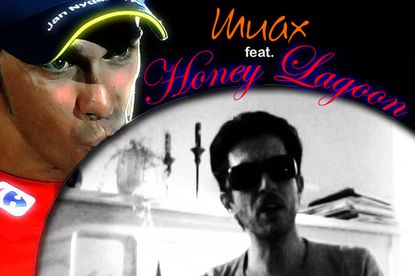 At 5.21pm today, a mysterious email arrived in the Cycling Weekly inbox.
"Dear Colleagues," it read. "The very famous Enrico Muax and Honey Lagoon are very proud to present their first English cycling duet, Alberto mi amor. It is a tribute to the equally fantastic Alberto Contador."
Of course we clicked — how could we not? — and here, for your auditory and visual pleasure, is the video itself.
https://www.youtube.com/watch?v=x7x4-stAdf0
A little bit of research revealed that the song is the work of Muax Enrico, a 43-year-old Italian now living in Germany. And it's not his first cycling-related song — he has already recorded songs dedicated to Jens Voigt, Andreas Kloden and André Greipel.
We don't know anything about co-singer Honey Lagoon, sorry.
It has been a busy day for Contador, who this afternoon rode at Herne Hill Velodrome in an event organised by sponsor Saxobank. But it must all feel worthwhile when he receives musical tributes like this one.
What do you reckon — Christmas number one?
More cycling videos
A motorist in Aberdeen claims he is a policeman when a cyclist confronts him about his dangerous overtaking move.
The banned cyclist pulls out after one lap and one beer.
Five videos from the British Pathé archives dating from 1899 to 1946.
Dutch blogger Mark Wagenbuur documents his trip to London by commenting on the differences between cycling in the capital and
Thank you for reading 10 articles this month* Join now for unlimited access
Enjoy your first month for just £1 / $1 / €1
*Read 5 free articles per month without a subscription
Join now for unlimited access
Try first month for just £1 / $1 / €1