Cancellara says victory "most beautiful ever"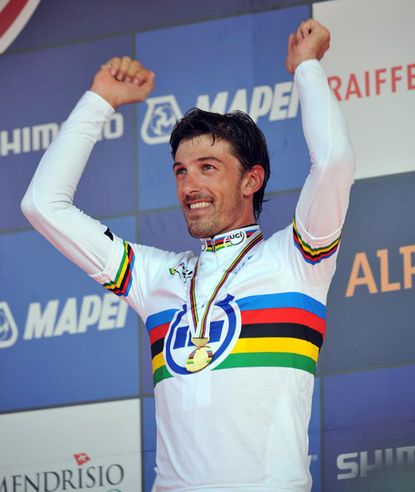 Newly crowned World Champion Fabian Cancellara said that the key to his third title was taking an early advantage over the rest of the field. A word of warning: he plans to become the first rider ever to do the double on Sunday.
"It was a perfect day," Cancellara said afterwards, "even though you don't realise it at the time, the support from the crowds was really important, it lifted me even further."
He was unsure, he said, if this was the best time trial he'd ever ridden, but recognised that it was "the most beautiful. Racing at home is something really special."
"The key to it all was taking an early advantage, and then holding on to that. I was really worried about [silver medallist] Gustav Larsson, so went all out from the gun to make sure I was ahead."
"After that, it was a question of maintaining a strong pace all the way through."
"I don't know if I was stronger physically when I won Milan-San Remo, but I know I'm stronger in my mind and that's what matters. Winning time trials is a question of confidence as much as anything else."
Asked about Sunday's road-race, Cancellara answered immediately "I can win it. I have the right kind of motivation. If I didn't have it, then I would stay at home."
Thank you for reading 20 articles this month* Join now for unlimited access
Enjoy your first month for just £1 / $1 / €1
*Read 5 free articles per month without a subscription
Join now for unlimited access
Try first month for just £1 / $1 / €1