Cannondale pro impressed by Lance Armstrong's strength during 110 mile training rides
Lawson Craddock also speaks of his continued admiration for Armstrong's achievements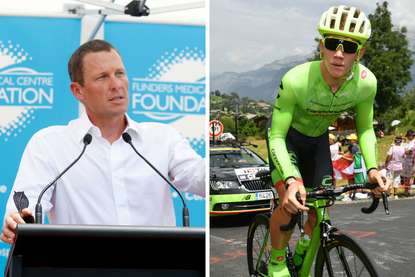 (Image credit: Watson/Sunada)
Like many young American cyclists, Lawson Craddock grew up with Lance Armstrong as his hero, and after training with Armstrong last week, said that he still held the disgraced former Tour de France winner in high regard.
"He'll come out and do 100 miles with us and push the pace," Craddock, who spent three seasons at Armstrong's Trek-Livestrong development team, told My Statesman.
"It's pretty cool when you take a step back. Doping and other stuff aside, he was still the best cyclist who ever lived."
The Cannondale-Drapac rider does not ride regularly with Armstrong, but says that it is good to be able to get advice from a man who won seven Tours de France, titles which have since been taken off him due to doping offences.
>>> Lance Armstrong to race again with U.S. Postal team-mates
"It's a unique tool to have to be able to pick his brain," Craddock said.
"He's the one person in the world who could jump on a bike and pound out 110 miles with three younger pro cyclists and still be ripping it at the end."
Watch: essential guide to the 2017 Tour de France
In the interview, Craddock also sets out his plans for the coming spring, focusing on the Tour of the Basque Country and the Ardennes Classics, before returning to the Tour of California, a race in which he has twice won the young rider classification, and finished third overall in 2015.
As for the Tour de France, which Craddock first rode last year, Armstrong says that this is a race that the 24-year-old could target in the years to come.
>>> Six American WorldTour riders to watch out for in 2017
"He's still very young. He has to decide or the sport has to decide for him what he focuses on, whether it's one-day races, classics, smaller stage races or three-week tours," Armstrong said.
"I asked him the other day, 'Do you think you can win the Tour de France?' He said he thinks at some point he can."
Thank you for reading 20 articles this month* Join now for unlimited access
Enjoy your first month for just £1 / $1 / €1
*Read 5 free articles per month without a subscription
Join now for unlimited access
Try first month for just £1 / $1 / €1