Your chance to tackle the same roads and climbs as the Tour de Yorkshire
The Tour de Yorkshire has shown how a bike race should be done, so why not ride the same roads?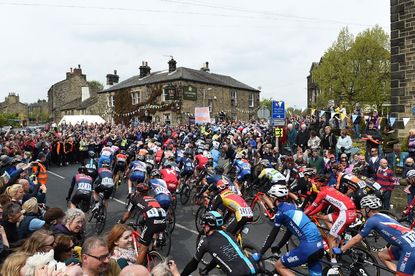 (Image credit: Andy Jones)
As Serge Pauwels rode to victory over the weekend, riders and fans alike have been in awe of the spectacle of the Tour de Yorkshire. The three day event has captured the imagination of the cycling public and with good reason.
You may have been sitting at home watching the race unfold, wishing you could join up with Team Sky and co on those roads. Well now you have the chance, thanks to UK Cycling Events.
From the Scarborough Sportive to the Ripon Revolution, the events cover some of the same tarmac that saw Dylan Groenewegen and Nacer Bouhanni take wins in stages one and two, respectively.
Riders in the Scarborough Sportive will notice the run up to the Côte de Robin Hood's bay before they swing inland and traverse the same path riders took after the Côte de Goathland towards Pickering. This beautiful stretch of road isn't only visually stunning but is the same hallowed tarmac that the pro peloton sailed over.
If you're after something more menacing, then the Ripon Revolution may be a chance for you to prove yourself.
From Masham to Summerbridge, weekend warriors will push themselves along the same paths as the Tour de Yorkshire. They will even take on the lethal Côte de Lofthouse which was the only categorised climb of stage two with an eye-watering average gradient of 11.4 per cent over 1.7km.
With four Yorkshire specific sportives to be ridden this year, there's the chance for riders to take in every bit of the county and its challenging scenery, but with the added pedigree of the Tour de Yorkshire you can now say you've ridden the same roads as the pros.
Thank you for reading 10 articles this month* Join now for unlimited access
Enjoy your first month for just £1 / $1 / €1
*Read 5 free articles per month without a subscription
Join now for unlimited access
Try first month for just £1 / $1 / €1