Tour de Yorkshire riders united in astonishment at 'incredible and crazy' roadside crowds
Peloton as staggered as ever as hundreds of thousands turn out to watch the race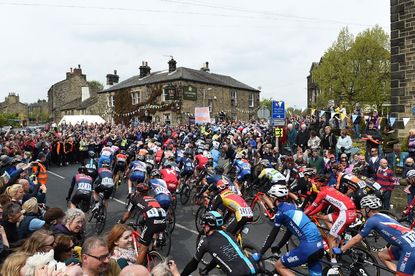 (Image credit: Andy Jones)
With hundreds of thousands of fans estimated to have lined the roads for Sunday's queen stage, it was no surprise that riders came away from the Tour de Yorkshire as generous as ever in their praise for the fans.
Serge Pauwels (Dimension Data), winner of stage three and overall, called the crowds were "maybe even better here than in Liège, the crowds here are amazing.
"I've ridden all around the world, and if I would make a top three of most amazing crowds I think you have the Belgian people in the Classics, you have the Basque people who are very amazing, but I think the people here in Yorkshire are for sure in the top three.
"It's one of the reasons I wanted to come back to this race. In winter normally I had the Tour de Romandie on my programme but I said no, I want to come back to the Tour de Yorkshire."
>>> 'I've always been fighting for it': Serge Pauwels on his first ever pro victory at the Tour de Yorkshire
The fans were full of support for all comers, added Pauwels's directeur sportif Rolf Aldag — not just the Brits, or the big stars.
"They just show a big interest in cycling and they show a lot of respect to everybody," Aldag said. "It's not only about the superstars, it's about the race, the home soil."
"It doesn't get any better than that," beamed Ian Stannard, who saw the front of the race more than most on the final stage in particular.
"It's on par with Tour de France kinda stuff so it's amazing to see. It makes you proud to ride your bike. We had loads of young kids cheering us and it's really nice to see that younger generation getting inspired."
His young team-mate Tao Geoghegan Hart, who went on to finish a creditable eighth on GC agreed.
>>> Five things we learned from the Tour de Yorkshire
"Not meaning to sound like a stuck record, but it's incredible," Geoghegan Hart said.
"The amount of times I heard my name shouted, and the team shouted for, is incredible. It's a bit crazy really, as a young guy, seeing that many people shouting for you individually.
"I just hope people watch it on TV and just acknowledge not just the racing but all those people who've taken the weekend off," he added.
"Some of those towns I was riding along today wondering where all those people have come from – it's unbelievable."
Aqua Blue Sport rider Mark Christian, who finished seventh overall, described the carnival atmosphere.:
"The people of Yorkshire really celebrate the race coming in, they don't just stand and watch it go by, they're all out having barbecues, balloons, flags up, everything, they're really taking to it which is great to see."
>>> 'You cannot compare the Tour de Yorkshire to any other race'
Georgia Bronzini (Wiggle-High5), who finished third in the women's race, was also full of praise:
"They are amazing. I feel like they really love the sport, love cycling. I really hope that some of the kids that we went to visit yesterday in the schools think that one day they can be a good rider at the top level."
Yorkshire rider Tom Stewart (One Pro), said the crowds were a unique part of racing in Yorkshire.
"I know you think crowds are crowds and you're going to get them anywhere, but they are particularly passionate [here]," Stewart, who was born in Doncaster, explained.
"Racing on the Continent if you get chatting to the guy next to you and you say you're from Yorkshire, England, they all know it. Even if they've not done the race they'll say, 'Oh Tour de Yorkshire, I want to come and do it one year'.
"There are not many regions, even on the Continent, that have got that kind of reputation."
Thank you for reading 20 articles this month* Join now for unlimited access
Enjoy your first month for just £1 / $1 / €1
*Read 5 free articles per month without a subscription
Join now for unlimited access
Try first month for just £1 / $1 / €1