Christian Wolmar as Mayor would put cycling at the heart of London transport plans
Prospective London mayoral candidate for Labour, Christian Wolmar, is a keen cyclist former board member of Cycling England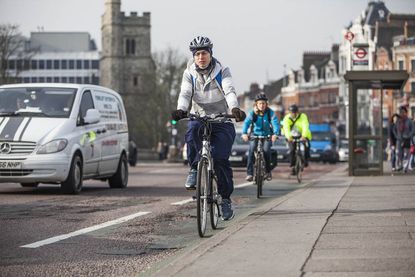 (Image credit: Chris Catchpole)
Get The Leadout Newsletter
The latest race content, interviews, features, reviews and expert buying guides, direct to your inbox!
Thank you for signing up to The Pick. You will receive a verification email shortly.
There was a problem. Please refresh the page and try again.
By Keith Bingham
Christian Wolmar, the transport journalist and author seeking Labour's nomination to run for Mayor of London in 2016, set out his vision for cycling in the Capital at the Pedal Club luncheon in London last Wednesday.
He was critical of much of current Mayor Boris Johnson's attempts to make London's streets safer for cycling, but praised his latest scheme for a cross-London segregated cycle route, saying: "This is the way forward."
Although he added that segregation would be not be possible on many of London's streets, and advocated a London wide 20mph speed limit to calm traffic as one solution.
Wolmar was a board member of Cycling England, the government body launched by Labour in 2005 and which created over 20 cycling demonstration towns before it was abolished by the Conservatives.
This, he said, was an act of sheer vindictiveness by the then transport minister, Philip Hammond. Wolmar gave a lively talk and took some equally lively questions from members afterwards!
He told the Pedal Club he has written about transport for over 20 years and cycling around London for 50 or 60 years. "I've done nearly 1000 miles on my new bike which I only bought 12 weeks ago," declared Wolmar.
"And that's only cycling around London on business. I don't really do recreational cycling. So it's part of my life. I can't do without my bike. I love it. I'm a passionate cycling campaigner. I've writing about transport since being made transport correspondent of The Independent 20 years ago. I was mostly focused on railways because that was a subject I was interested in…."
He said he got into this "mayoral business" after writing a piece in the Evening Standard about the last Mayoral election, describing it as a dull campaign.
"I said we should have some fresh thinking about London. A real vision for what it could be like. Decide what a relative balance between cars and other traffic should be; decide what sort of transport system was needed in the 21st century. Really passionate stuff.
"And someone wrote to the Evening Standard saying if Wolmar stood for Mayor I'd vote for him."
So he thought he ought to do this. And that summer he went around London, talking to all sorts of people, a few MPs. "In 30 or 40 years of being a journalist I have met a lot relevant people, "he said.
He announced his candidature in Sept 2012 in The Times. Since then he's built up a campaign team…given about 50 speeches, launched policy initiative and on …his website plans show a visualisation of what Oxford Street could look like if it was pedestrianised.
This would be a far cry from what transport planners had in mind 40 years ago.
He described a period of 20 or 30 years after the War when transport planners the decided car was the solution to all transport problems. "We'd drive into town and there would be huge multi-storey car parks and we wouldn't need public transport."
London underground, he said, was really neglected for about the first 20 years after the second world war.
The peak of this thinking was the notion that we would have urban motorways. Wolmar said he went to an exhibition a few weeks ago… which outlined plans of the 1970s, there was a whole kind of design brief for motorway development inside cities, similar to how Birmingham's road layout was devised.
There would have been cars whizzing around the middle of London on an inner London motorway - a bit of it was built between Paddington and Shepherd's Bush. This was to have been continued to Kings Cross, through Islington down through Tower Hamlets, then south of the River, to create an inner ring road which would have demolished 40,000 homes.
Wolmar described how there would be a spur down to Tottenham Court Road end of Oxford Street. There would be a big roundabout where Centre Point is now. There would be feeder roads and all the like. That was a vision of the sixties.
He said that although London got away from that vision, that the car was not going to be allowed to dominate because it can't actually work in that way, no one has come up with what should be done.
All that has been done, said Wolmar, is to put up a patchwork of double yellow lines, traffic wardens, small controls of the car. He said the one big idea by former Mayor Ken Livingstone; to introduce the congestion charge was very innovative. But no one has really addressed what a city in the 21ast century should look like, which isn't dominated by the car.
Wolmar described how Cycling England had shown a way.
He told of how he was on the national cycling strategy board that Steve Norris created and then on Cycling England and recently on the board of London Cycling Campaign before leaving that when he embarked on this political career.
"Cycling England was a great institution. We managed to extract under the government about £60m a year. And I played a pivotal role in that, of which I am very proud. We spent on it on cycle ability, demonstration towns and all sorts of other projects. And the most crucial bit of work we did was look at the way cycling boosts the economy as a whole. So we did a cost benefit analysis of the value of cycling.
"Which came down to a 3 or 4 or 5-1 ratio of every pound you spend on cycling you would get 4 or 5 pound back, in terms of health benefits, in terms of reducing environmental costs.
"So we did that.
"And then, shockingly and I mean shockingly, Cycling England was abolished. Cycling England was abolished by an act of sheer vindictiveness by Phillip Hammond, who was the transport secretary at the time, a man who had no interest at all in cycling."
Hammond he said once asked him why at level crossings the trains couldn't stop to let the cars go by, instead of the other way around. Because, sometimes the trains only have half a dozen people aboard, while there are all these motorists waiting for them to go by!
Wolmar had to explain to him the way that signalling works on trains and the fact is its quite difficult to stop trains and so on.
"But fortunately, I don't think he tried to do anything about level crossings, "said Wolmar, adding, to laughter…."And I am very glad that he is now in charge of our defence strategy."
He said that in losing Cycling England we lost focus from an organisation which was batting for cycling.
And he said that If Labour were to win the next election, he would do all he could to have Cycling England recreated.
Wolmar went on to say "cycling policy had been such a disaster" and why government promises to provide funding are simply not enough
"The reason that it doesn't happen is because none of the elements that you need to actually create a coherent and long-term cycling policy are there. There is no budget for these things.
"Yes, there is money available and they are little bits of other people's budgets, a bit of money from the Highways, some local authority money that is meant to be spent on cycling, little scheme here and there, a kind of pilot project here.
"There is never any sort of, concerted, Right, we going to spend £200m solely on cycling, cycling infrastructure, cycling parking, encouraging cycle training, the kind of aspects you need to bring about change."
He said he's cycled all over London, central and outer boroughs and he can't find any good cycling infrastructure.
"Nowhere in London is there a coherent cycle path. In Camden there is a kind of new cycle path on the cheap. Which isn't bad. In Tavistock Place there is a bit of segregated cycling infrastructure which I think is relatively comfy and it's awfully heavily used. It's not bad but a bit narrow. And so over used, there is often a dozen people waiting behind each other at traffic lights. So in all this tour of London, cycling around I have not found one good bit of cycling infrastructure."
"There is no leadership. There is no one saying, we need to boost cycling. There is no budget, no long term vision. There is no real continuity. And although both the Tories and Labour and the woolly Lib Dems saying 'we like cyclists and they are a good thing" and then of course, in the next breath they talk about Lycra louts.
"I mean Robert Goodwill, who is junior transport minister, did that at a meeting I was at the other day, where he said 'I cycle in' – and he probably does – but then he could not then resist having a go about Lycra Louts.
"It was as if the AA went on about speeding motorists every time they talk about car drivers and they don't.
"So, it's completely out of perspective. I realise you have to address the issue of cyclists behaviour but it just shows that the will is not there."
"In London he said we have the London cycle network which is bypassing main routes, and then we had the London Cycling Network Plus, which was trying to improve on that.
"Then there are the Superhighways on main roads which Wolmar said were of a terrible standard.
"And now, at last, to be fair, I'll give credit to Boris, he does at last seem to have some coherent ideas.
"It's taken him six years, of Boris being in power. And there is a great plan to build an east west kind of cross rail type route and another one north south. And this is to be commended. And it's a Dutch style design.
"And that might be the beginning of something. We need someone to really push that forward, and endorse that and praise that and build on it.
"But we've been here before and we have to wonder if it will be seen through.
"So, if I became Mayor I would be a Labour mayor.
"And I would ensure that every policy, every transport policy, had cycling at its heart. That a consideration of cycling would be involved at every junction that you are re-doing.
"Which I still don't think they've got the hang of it.
"I would appoint a new cycling czar. I mean, Andrew Gilligan has done his best but he's no cycling expert. And I think we need some expertise from abroad, which can really push through a programme.
"Ensure there was a 20mph zone across London. I think the whole idea that you have 20mph roads, except possibly on routes which are really major arteries, if you do that you are sending a message out that says we are trying to make this town safer.
"I would have a zero tolerance towards road deaths. Every road death would be examined very, very thoroughly. We would look at the causes; we would make changes in the legislature and have this zero tolerance idea which they have in Sweden and also in New York. I think it's a very useful way of closing down on what is wrong. And so on.
"One has to say, London has changed.
"At one time I used to talk to my fellow cyclists at traffic lights because they were very few of them.
"London is changed and we have to build on that. There is the potential to make a big difference.
"But it needs a lot of concerted, planned work. It needs consistent policy and it needs to bring everyone on board. It needs to overcome potential hostility, and it needs to be integrated in with other transport policies in Transport for London."
New route includes 18-mile cycle route running East-West through the capital city
20 per cent increase in cyclists in London compared to last year during four week period in July and August
Thank you for reading 20 articles this month* Join now for unlimited access
Enjoy your first month for just £1 / $1 / €1
*Read 5 free articles per month without a subscription
Join now for unlimited access
Try first month for just £1 / $1 / €1
Get The Leadout Newsletter
The latest race content, interviews, features, reviews and expert buying guides, direct to your inbox!
Founded in 1891, Cycling Weekly and its team of expert journalists brings cyclists in-depth reviews, extensive coverage of both professional and domestic racing, as well as fitness advice and 'brew a cuppa and put your feet up' features. Cycling Weekly serves its audience across a range of platforms, from good old-fashioned print to online journalism, and video.