Riding in the winter cold can be grim, as these cycling stories show
Frostbitten hands and fingers, too numb to hold the brakes, and taking hours to warm up afterwards... readers recount their cold weather cycling tales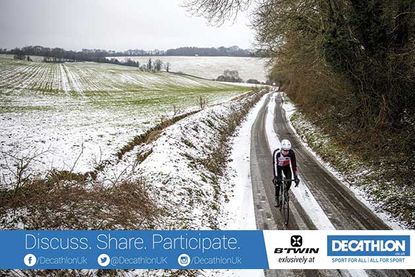 We asked Cycling Weekly readers to recount their coldest bike ride, and we present a selection of answers, in association with B'Twin.
What has been your coldest bike ride? Share you story in the comments section below.
February 2010, the day after going out and buying all of my cycling gear. The first time I'd been on a bike since primary school. Cycled to my mum and dad's in Redditch to show them my new hobby. On the way home it started to snow, I couldn't feel my hands within minutes and actually cried. It then took me 10 minutes to get the house key in the door and I put my hands straight under the hot tap and ended up lying on the floor screaming for about 20 minutes. It was hell. I didn't ride a bike again until 2017.
Lee Ross
Calpe, Spain, 2017. Went there to escape the Cornish winter. Got there, climbed a mountain and it snowed, which it hadn't done since 1987. Descending without gloves and trying to brake with no sensations in your hands was a painful experience. Got to the bottom and this house was having a bonfire outside... thought it was a mirage. Stood around that thing for at least half an hour chomping a banana and building the courage back up for the final few miles back to the warmth of the villa.
Adam Pedley
February 1, 2015. Holme Moss. Nice weather in Huddersfield but minus six at the top of the climb. Couldn't feel my hands on the descent and considered calling into one if the cottages to warm up. My water bottle had frozen up when I tried to take a drink back in Huddersfield.
Phillip Benson
Last Saturday. Training ride from Llandaf to Rumney with Cardiff Social Cycling. Neoprene gloves with Gore gloves on top and the tips of my fingers were numb after mile one.
Gareth Thomas

In the winter of 1986. New Year's Day ride with Beeston Road Club. I was 15 years old. The winter had been particularly cold. I remember going out and only four of us turning up. It was a 100-mile round trip. We got out into the Peak District towards Buxton, and I vividly remember the snowdrifts and bitingly cold wind. We were hardened club riders, but I couldn't feel my feet and hands. There was ice on my scarf over my mouth. The best thing was stopping at a Little Chef and eating hot apple pie and custard. After a big mug of tea and as my body regained some heat, a big grin came over my face and I felt so happy we had been out that day.
Gwyn Hewitson
http://www.youtube.com/watch?v=oZOr-A34xGc
Ride home from work in Cheddar, last winter, over the Mendips. Snow over the hilltops, arrived home with beard and clothes covered in frost, and icicles on the handlebars.
Kevin Pearson
May 2013, riding the Fred Whitton it snowed on the tops, in May. Yes, May. Freezing conditions, the snow turned to rain on the lower slopes. I was blue by the time I got to the finish with four more long, cold, miserable, stinking miles to ride to the campsite. Spent an hour in the hot shower trying to get warm.
Barry Jones
As a school boy racer back in the 70s early seasons crit on Swindlby Airfield already windy and freezing it started snowing during the race. When we finished we could not easily let go of the bars or get off the bikes we were so cold and soaked. I'll never forget that. We never went back to that event.
Paul Atkins
>>> The reason why you never forget your first bike
Doing JOGLE in mid November 2006, coming down from Glencoe towards Bridge of Orchy. Going up in the snow was fine, coming down in the rain at 8pm was not! Receptionist let me have a bath and thaw out before properly checking in.
Andrew George Luckman

Hopey New Year 110Km Audax in Derbyshire. January about 12-years ago. It was already freezing and contrary to the weather forecast it started snowing heavily about 30 to 25-miles from the end. I got frostbitten toes, and still, to this day have no feeling in two of them on my left foot!
Steven Hepworth
Descent off of the Tourmalet. Etape du Tour 2014. Controlling a bike when near hypothermic and with numb hands down a mountain is not ideal!
Chris Harper
Cycling to school in the 70s - two pairs of gloves but had to slide hands off the handlebars and took over an hour to straighten fingers enough to get gloves off.
Lynn Wilson
Thank you for reading 20 articles this month* Join now for unlimited access
Enjoy your first month for just £1 / $1 / €1
*Read 5 free articles per month without a subscription
Join now for unlimited access
Try first month for just £1 / $1 / €1