Contador attracts the crowds at Cycle Show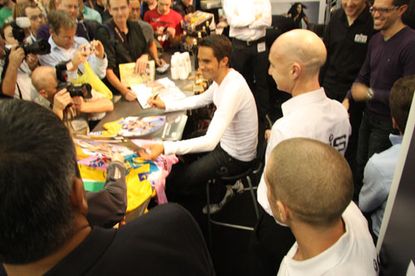 Alberto Contador pulled in an enormous crowd of fans at Cycle Show 2009 at Earls Court, London, on Friday.
As soon as the announcement went out over the show PA that the 2009 Tour de France champion would be appearing as a guest on the Science in Sport stand, a large crowd quickly gathered.
After a five minute wait, the crowd parted and the slight figure of Contador channelled through followed by a gaggle of TV cameras.
The Astana rider then happily sat meeting fans, signing autographs and chatting.
Contador then took to the stage in the afternoon to take part in a question and answer session, during which he revealed he will be returning to the UK in December to take a holiday in the country.
Cycle Show 2009 is open to the public from Friday, October 9, to Sunday, October 11.
Contador makes an appearance on the Science in Sport stand
TV cameras were following Contador as he made his way to the stand
Contador (centre) chats with his fans with Science in Sport's Peter Slater looking on
Fans try to grab a photo of Contador over the crowds
Contador took to the main stage for a Q&A session
Popular man: hundreds of people strained to see Contador on the stage
Related links
Cycle Show 2009: Photo special part one
Thank you for reading 20 articles this month* Join now for unlimited access
Enjoy your first month for just £1 / $1 / €1
*Read 5 free articles per month without a subscription
Join now for unlimited access
Try first month for just £1 / $1 / €1