Cooke to fight back in women's road race after difficult season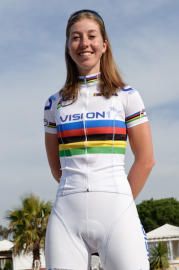 Nicole Cooke will try to defend her world championship title in Mendrisio on Saturday but after her Olympic and world title double and a difficult season, she is the first to admit she is not at her best.
For many riders that would mean they had little chance of winning the world title again on the tough Mendrisio course, but as her rivals know, Nicole Cooke can never be written off.
Great Britain will field perhaps its strongest team ever in the women's road race, with Emma Pooley and Lizzie Armistead also on form and deserving a leadership role. However, Cooke is defending champion and by far the best one-day rider of her generation so deserves to lead the team until the race dictates other wise.
"The world championships is the one ultimate prize at the end of the race, it is the one that counts. Everyone knows that," Cooke said on Friday afternoon in the Great Britain hotel in Lugano.
"Within the teams, riders will focus more on one part of season but at the world champs everyone is there. The crowd and atmosphere are another notch above everything else. The feelings and emotions in the race make everything so much more exhilarating. And if there's a big prize on the line you have to fight for, against 10 or 15 others who aren't going to give up anything. It takes something special to win it."
The demise of the Vision 1 team, the British trade team that Cooke worked so hard to set up, definitely affected her season, her form and even her health. She was ill in the summer but has been working hard in recent weeks to find some form.
"I had a virus in July. I can't give you a name, but it was definitely a virus," she said.
"I would say I am not at the level of last year. But in terms of my prep, I've done everything I could have done over the past two months: I know the course, I've worked to be as good as I can and be ready for that big day. I'm going to give it my best and hope that's enough to be up there fighting for the big prize."
Natural leader, willing worker
Cooke is a natural leader and a winner but this year she is ready to share the spotlight in the women's race with the other riders. Don't be surprised to see her working for Emma Pooley as part of the strongest team ever fielded in the women's race.
"It's a good thing, we can get other teams guessing," she said of a possible different race strategy to that many people might expect.
"We have different options to play, and that's the great thing about cycling, it's using what you can to your advantage. The team is something we can use."
"I'd be prepared to do that, because of the support I got last year, which helped me achieve the highlight of my career so far."
"I'd be very happy to pay back the help they gave me. That's part of cycling and in the race, as everyone knows, you've either got the legs or you haven't. And I'll be the first one to say that, if I don't have the legs, we go to plan B or plan C."
What ever happens in the 124.2km race, Cooke is working hard to get her career back on track after a celebratory but also difficult 2009. She has signed for a new team for 2010 after the demise of Vision 1 and will announce who it is in a couple of weeks.
The Great Britain women's team for the road race is:
Lizzie Armitstead
Katie Colclough
Nicole Cooke
Nikki Harris
Sharon Laws
Lucy Martin
Emma Pooley
Road World Championships 2009: Related links
News
Wiggins accepts time trial defeat
Cancellara says TT victory was 'most beautiful ever'
Men's time trial start list
Pooley disappointed with 11th in time trial
Ellingworth explains Cavendish withdrawal from Worlds
Dowsett happy with world-class ride in under-23 TT
Manning praises Dowsett after Worlds TT ride
It's Cavendish or Stannard for final worlds place
Great Britain names world championships team
Millar won't ride worlds time trial despite Vuelta win
Wiggins quits Tour of Britain to focus on worlds TT
Out of sorts Cooke abandons Tour de l'Ardeche
Cavendish keen to ride worlds despite illness
Millar set to lead GB road race team at the Worlds
Brits head home to fight for worlds places
Reports
Cancellara blasts to third Worlds time trial title
Men's time trial as it happened
Armstrong repeats 2006 world champs win for USA
Under-23 Men Time Trial
Women's and under-23 men's time trials as they happened
Photos
Men's time trial gallery by Graham Watson
Women's time trial gallery by Graham Watson
Under-23 men time trial gallery by Graham Watson
Thank you for reading 20 articles this month* Join now for unlimited access
Enjoy your first month for just £1 / $1 / €1
*Read 5 free articles per month without a subscription
Join now for unlimited access
Try first month for just £1 / $1 / €1