Cooke wins 10th national title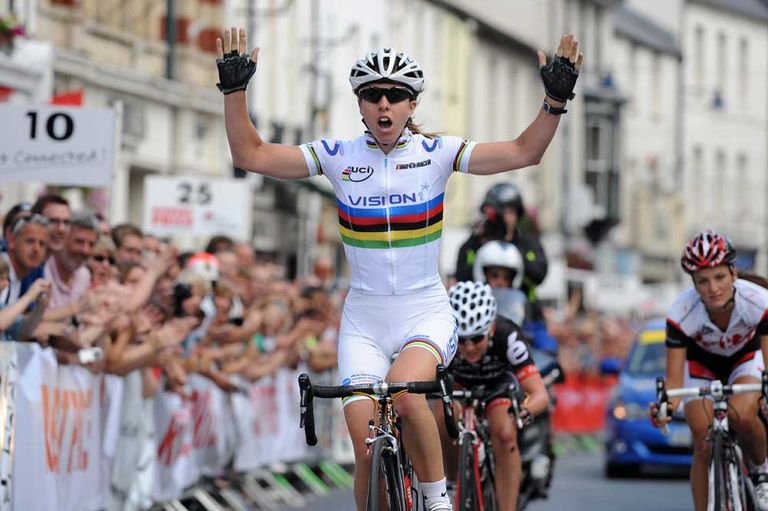 Nicole Cooke took her 10th national title in front of a huge home crowd in Abergavenny today.
The Olympic and world champion was always the favourite for this race despite the ever-improving Emma Pooley.
The Cervelo rider, fresh from her victory in the Grande Boucle stage race, needed to distance herself from Cooke if she was going to win her first title. But Cooke isn't the sort of rider you can just shake off, and after a quiet start to the season she's started winning recently too.
In the end Cooke won the sprint comfortably from Lizzie Armitstead and Pooley after the three had simply ridden away from the rest of a peloton that just wasn't on the same level.
Sadly it was Armitstead's second place that then became the story of the day, and one that has completely overshadowed the result.
Armitstead is an under-23 rider, a category that has prizes awarded separately from the main event. In a bizarre interpretation of the rules, chief commissaire Colin Clews, ruled that because Armitstead was in the under-23 category, she wasn't eligible to receive her silver medal, and Pooley was given second place.
Last year Joanna Rowsell won the under-23 category and rightly kept her bronze medal for the senior title, and Cooke has won both categories - and never been relegated from either - more times than we care to remember.
But Clews was adamant; "When you combine two championships as we have done; if somebody receives a premier award, such as a jersey in the U23, then she is no longer eligible to receive the medal in the elite competition."
But as the rule hasn't been enforced in recent times, should have been today? The crowd obviously didn't think so as they booed the announcement, much to commentator Hugh Porter's annoyance.
Cooke too was on Armitstead's side, "As soon as the girls heard it, everyone was disappointed. No one wanted to take a medal that wasn't theirs. We all wanted a fair result, and that's what it was on paper."
Emma Pooley leads Nicole Cooke and Lizzie Armitstead (behind Cooke) on the finishing circuit in Abergavenny
RESULTS

British road race national championships (women)

1. Nicole Cooke (Vision 1) in 3-34-00
2. Lizzie Armitstead (Lotto-Belisol)
3. Emma Pooley (Cervelo) at same time
4. Catherine Williamson (Fenixs) at 4sec
5. Katie Colclough (100% ME) at 1-00
6. Julia Shaw (Unattached) at same time
7. Nikki Harris (Flexpoint) at 3-20
8. Dannielle King (Vision 1) at 4-10
9. Lucy Martin (100% ME) at same time
10. Charlotte Colclough (100% ME) at same time
RELATED LINKS
House wins men's national championships after epic race in Wales
Cooksonover-rules to reinstate Armitstead
Atkinswins junior road race title in Wales