COOKE'S SECRET WAS THE SKINSUIT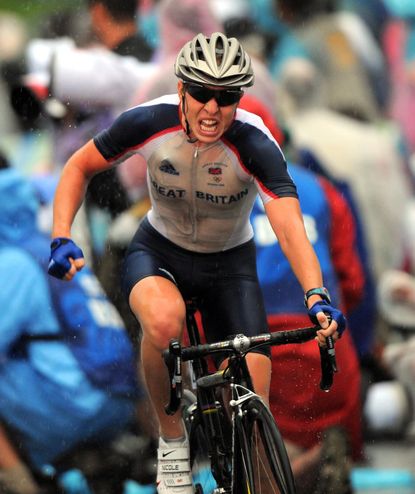 One of the secrets to Nicole Cooke?s success was the skinsuit she wore in Sunday?s Olympic road race.
While Emma Pooley and Sharon Laws opted for the standard Great Britain team road jersey and shorts, Cooke wore a skinsuit, which is unusual in a mass-start road race event.
Eagle-eyed viewers watching on television would have noticed that the blue stripes on the shoulders were darker and wider and that the shorts were a darker blue.
Cooke rides for Halfords Bikehut, as does Rob Hayles, who may have helped plant the seed of the idea earlier in the summer when he wore a skinsuit to win the National Championship road race in North Yorkshire.
British Cycling have worked for more than a year to find every possible advantage and Hayles is an advocate of racing in a skinsuit, even if others are sceptical.
Hayles was in his Halfords-sponsored national champion's skinsuit again on Sunday, to win the Tour of Pendle Premier Calendar race, and says that however small the advantage, it is still an advantage.
?I started wearing a skinsuit because I definitely feel there is a benefit,? said Hayles. ?It is not a case that British Cycling said ?Oh, Rob?s doing it so we?ll all do it,? but I did say to Winny [Halfords Bikehut team manager Julian Winn] ?Have you got Nicole in a skinsuit??
?It?s a little bit different and people may look at you and say ?what are you wearing that for?? but you would never dream of doing a time trial in a road jersey for a very good reason.
?People spend thousands on lightweight aerodynamic wheels or hundreds on aero handlebars and then put a flappy jersey on and cancel out any advantage gained and more.
?Every time you hit the front and are in the wind you are time trialling. Yesterday [in the Tour of Pendle] I time trialled for eight miles at the end of that race and being as aero as possible has to be an advantage.?
Hayles said he could see more riders deciding to wear a skinsuit in road races in future. ?The biggest issue is the lack of pockets but you can have one stitched on the back to take some food. If the circumstances are right, it is the right clothing to wear.?
"Chris Boardman told me he turned up at the Archer Grand Prix in a skinsuit once and people said: 'What have you got that on for?' At the end of the day we?re looking for the tiniest margin. We?ve never got in the wind tunnel to test it because it?s obvious there's a difference but I?d imagine we?d be horrified at how much drag you get from a road jersey.?
Cooke?s decision to wear a skinsuit was not without precedent. In fact, 23 years ago Stephen Roche did the same thing for a short road stage in the 1985 Tour de France.
One morning in that Tour they had a short stage in the Pyrenees which started in the valley road and then climbed to the top of the Col d?Aubisque. The Irishman?s directeur sportif told him to treat the race like a time trial by attacking from the gun and soloing to the summit. So, treating the race like a time trial meant wearing a skin-tight Lycra one-piece outfit that had only recently been invented.
Even Roche wasn?t an innovator in this respect. The American Andy Hampsten did exactly the same thing to win a mountain stage of the Giro earlier that same summer.
Now the question is whether Cooke?s choice of attire will spark a new trend in road racing.
Hayles wins his national road race title in June wearing a skinsuit. British Cycling?s secret squirrels keep their methods close to their chest, but they were no doubt interested Hayles?s thoughts. Hayles and Cooke both ride for Halfords Bikehut too.
RELATED LINKS
Hayles wins Tour of Pendle Premier Calendar race
Picture special: Women's road race
Reaction: It's a dream, says Cooke
Analysis: Dissecting Cooke's victory in Beijing
Race report: Cooke wins gold in women's road race
What the papers say about Nicole Cooke. How the national press reacted
Swipe to scroll horizontally
Positive test for cyclist at Olympic Games
Bettini chasing second Olympic gold
Romero poses nude for ad
British quartet eyeing new world record
As Olympics approach two new drugs emerge
Swipe to scroll horizontally
Analysis: women's road race
Gold for Nicole Cooke in Women?s road race
Reaction: It?s a dream to win Gold, says Cooke
Women's Olympic road race picture special
Sanchez gives Spain gold in thrilling men?s road race
Who is Samuel Sanchez?
Tactical analysis: Reading the men?s Olympic road race
British riders suffer in hot and humid Olympic road race
Rebellin misses out on golden birthday
Brailsford confident ahead of women?s road race
Swipe to scroll horizontally
OLYMPIC GAMES 2008: GUIDE
Olympics cycling results>>
Cycling event schedule>>
Great Britain rider profiles>>
Cycling event guide>>
Photo gallery>>
British Olympic cycling medal winners>>
Thank you for reading 20 articles this month* Join now for unlimited access
Enjoy your first month for just £1 / $1 / €1
*Read 5 free articles per month without a subscription
Join now for unlimited access
Try first month for just £1 / $1 / €1