CPA president Gianni Bugno hits back at criticism from Chris Froome and other riders ahead of election
The Italian says he 'felt bad' after comments from Froome, and said he is happy to have David Millar's challenge in the upcoming election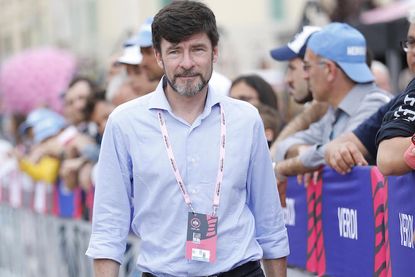 (Image credit: Yuzuru SUNADA)
Chris Froome's criticism regarding the Association of Professional Cyclists (CPA) and the upcoming election "bothers" president Gianni Bugno, who says he has "defended him."
Bugno and the association are under fire with the elections approaching in one week. He faces rival presidential candidate David Millar and criticism of an unjust electoral process.
"It makes me feel very bad to be criticised by Chris Froome," Bugno told Cycling Weekly.
>>> Why pro riders including Chris Froome and Geraint Thomas are protesting against their union
"I'm a fan of Froome, a fan of Team Sky. I don't have anything against them. I defended him in the incidents, spitting in the Tour [and the Vuelta allergy case]. But it bothers me that they are writing bad things about the CPA, when it's us who can defend their rights."
Froome wrote on Twitter: "Seems to me that the CPA is running a dictatorship, not a democracy which truly represents all the riders. Got to wonder who this union actually represents."
One issue is the election process which sees six board members cast block votes for their countries. If Italy, one of the members, decides to vote in favour of Bugno, then all of its cyclists' votes will go towards Bugno instead of each Italian rider having his own individual vote.
Other cyclists with their country not sitting at the board may cast votes individually, but they must be present to do so. Voting will take place on Thursday in Innsbruck, Austria, and not all riders pay for the trip to vote. Those who are racing, may head home after the time trials end on Wednesday and others in the road races may not yet arrive in time to cast their ballots.
"I've always tried to take on the criticism and be neutral," Bugno said. "This election system has been in place, nothing has been done to change it. These are the rules of the UCI. The electronic system of voting could work, but that can be compromised. So, until there's another system, I need to respect the voting rules how they are."
Bugno took over as president from Cédric Vasseur in 2010. Until earlier this month, it appeared he would run unchallenged for another term as president of the union. A role that goes unpaid as he said he is just reimbursed for expenses.
"I respect [Millar]. I'm happy he's there with his ideas. I wish he was able to run two years ago, I wanted him in but he was busy. Now it's a different time and it's a different phase. It'd be very much more difficult for him now than if he came in before," Bugno added.
"I'm happy for the challenge, but we shouldn't put the CPA or how it works in bad light. I'm asking that to Froome. Don't put the CPA in doubt."
Bugno says he has no way of contacting Froome without his number or e-mail. In the recent weeks, Geraint Thomas (Sky), Daniel Martin (UAE Team Emirates) and many others made comments about the CPA and the election process. Froome's words hurt the most.
"Yeah, it bothers me because he never talked to me. I never had a chance to talk with him. I never heard of him. Now, he's talking about this electronic voting and him saying he'll vote for Millar. He never said thanks when the CPA defended him, not me, but everyone working at the CPA."
The rules for election seem unlikely to change in the short term. Bugno said that he is open to them changing and said that Ben Greetham, Chairman of the British and Irish Professional Cyclists' Association came to explore his group having a seat at the board.
"They say they can't vote, but then they had a delegate to do that, just create an association for Great Britain. That was one of my goals, like we did for North America – ANAPRC (Association of North American Professional Road Cyclists)," Bugno said.
"Ben Greetham came and was asked a few times to create an association but he never did it."
"We have always protested against the national association model and the block voting," Greetham responded to Bugno's comments.
"We believe the votes should be carried out by the individual riders. So we decided against it.
"For us to do it [joining the CPA as an association], we'd be agreeing with the block model and we don't agree with it. It's unacceptable that every nation should have to do that."
Thank you for reading 20 articles this month* Join now for unlimited access
Enjoy your first month for just £1 / $1 / €1
*Read 5 free articles per month without a subscription
Join now for unlimited access
Try first month for just £1 / $1 / €1