Cuban track sprinter suffers giant splinter through arm
Lisandra Guerra crashes during sprint semi-final and ends up with large splinter of track protruding from her arm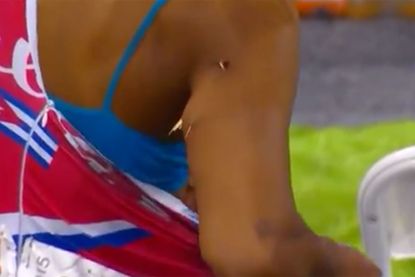 A large splinter of wood became lodged in Cuban track sprinter Lisandra Guerra's arm during the Pan-American Games in Toronto, Canada.
The 27-year-old fell during the sprint semi-finals on Saturday after a touching wheels with her opponent, Mexican Luz Gaxiola. Guerra slid along the track as a piece of the boards splintered off and lodged itself in her upper right arm.
Initially, Guerra seems unaware of the nature of her injury and unsurprisingly looks shocked when she sees the large splinter. The object was removed and she required four stitches, but could not continue in the event.
Guerra was the defending champion in the sprint, having won the title in the 2011 Pan American Games along with the 500 metres time trial title.
The Pan American Games take place every four years, with athletes from the Americas taking part in this year's edition in Toronto over July 10-26. Cycling disciplines include road race, time trial, track, BMX and mountain bike.
>>> Brazilian team escorted off motorway in Canada
Splinters are a relatively commonplace hazard for tracks cyclists, but one as large as this is unusual.
Azizulhasni Awang suffered from a splinter that went straight through his calf during the 2011 Track World Cup in Manchester. The Malaysian sprinter amazingly finished his race with the piece of wood in his leg, and later required surgery to have it removed.
Thank you for reading 5 articles this month* Join now for unlimited access
Enjoy your first month for just £1 / $1 / €1
*Read 5 free articles per month without a subscription
Join now for unlimited access
Try first month for just £1 / $1 / €1