Awang needs surgery to remove huge splinter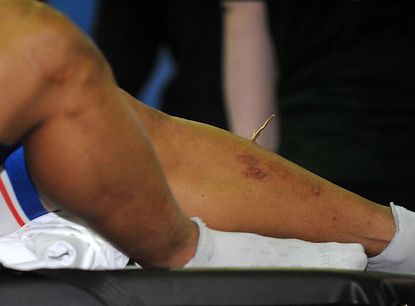 Get The Leadout Newsletter
The latest race content, interviews, features, reviews and expert buying guides, direct to your inbox!
Thank you for signing up to The Pick. You will receive a verification email shortly.
There was a problem. Please refresh the page and try again.
What we learned at the track on Friday
Day two at Manchester track. What did it tell us?



Azizulhasni Awang is a tough cookie
The Malaysian Keirin rider was already one of the most popular riders on the circuit because of his crafty tactics, fighting spirit and tendency to wheelie over the line.
Last night he was carried out of the velodrome on a stretcher with a foot-long splinter through his calf.
The 23-year-old Awang hit the boards in the big crash during the Keirin final but knew he had to pick himself up and get over the finish line with his bike to win the overall World Cup Keirin title.
It was only after he crossed the line that he concerned himself with the huge splinter of track that had gone through his leg.
In fact, splinter does not convey the true picture. At the fat end, the splinter was the width of a board, and although debate on the press benches was in danger of exaggerating its length, consensus settled on it being about a foot long.
The splinter was still in his leg on Sunday morning. Awang had been X-rayed at hospital to make sure the splinter had not severed any important arteries. Only then could he go into theatre to have the piece of wood taken out.
John Beasley, the Malaysian cycling team coach, confirmed that Awang would miss the World Championships next month. "He was most worried about whether or not he'd miss the Olympics but he'll be fine for that," he said.
"He's a pretty tough little character. He's the Chris Hoy of Malaysia so for us it's about getting him right for the future, taking time to get him right and get him back on track.
"He's a 65kg guy and he races against giants. He's extremely determined, a real tough cookie. They scanned him at 8.30 this morning to see if it had gone through any arteries. It hasn't, so he'll go into surgery now."
Awang had to get up and cross the line to clinch the World Cup crown. Beasley said: "The first thing you check is his head and that was fine. I asked him if he could get back on his bike and he did. It wasn't until he got over the line that we realised."
Not for the squeamish. The splinter went right through Awang's calf.
Track cycling needs more people like Elizaveta Bochkareva

The Ukrainian was one of the first to be eliminated from the elimination race, which is part of the omnium. To quell any controversy about who's turn it is to be 'out', the riders have boxes fitted to their handlebar stems. A red light flashes if they are the last rider over the line on the sprint lap and they have to drop out immediately.
Except Bochkareva didn't take the hint. Instead she rode on for several laps, hoping that perhaps the light would just go away. Or maybe she didn't notice. It's easy to do.
Mind you, the fans didn't and before long they were cat-calling. When she eventually dropped out she was treated to loud ironic cheers.
It got us thinking. If only anti-doping worked like that. We can imagine the scene. The riders are racing up Alpe d'Huez. "Er, Alberto, your red light is flashing again. It's time to drop out." [hang on, hasn't he been cleared - Ed]
Sir Chris Hoy doesn't have to lead from the front
When Hoy started dominating the Keirin a few years ago, he did it the same way almost every time. He took the first position behind the Derny bike, led from the front, turned on the power and - more often than not - won in style.
This weekend he mixed it up. His 'new' tactic was to drop back, let a gap open, then accelerate from a deep position so that by the time he was level with the leaders his momentum was too much for them. From there he had the engine to power to the line.
Hoy's sprint crown may have been dislodged a tad but he's still king of the Keirin.
Shane Archbold is a man to watch in the men's omnium
Making predictions for the Olympic omnium is like long-range weather forecasting. It's not really possible to say how it's going to turn out. But Shane Archbold's performance over two days will not have escaped people's notice. He scored a very low total of 15 points over the six events. He won the flying lap, points race and individual pursuit and was third, fourth and fifth in the other events. It doesn't get much more consistent than that. The impressive thing was that he was good in both timed and bunch disciplines - and that is the holy grail everyone is searching for.
Despite her obvious and versatile talent, Lizzie Armitstead has a lot of work to do
The biggest issue confronting British Cycling's coaches is to settle on their best options for the omnium. Ed Clancy looks a good option for the men but the team pursuit complicates things. But there are other options. Lizzie Armitstead is the stand-out contender for Great Britain but she still has to get to grips with the multi-discipline event. Looking at the way Sarah Hammer has started - with two wins and a second from the first three events - shows just how difficult it's going to be. The other riders know how strong Armitstead is too - she gets so tightly marked in the bunch events.
Anna Meares has been in great form for a very long time. Can it last?
The Australian has been flying for 18 months. It's asking a lot to expect her to maintain that high standard all the way to London, another 18 months away. Surely she will back off a bit at some point? Victoria Pendleton's semi-final defeat to Meares was not a huge surprise but there will be more to come from her. The question is whether Meares can step it up another notch.
Thank you for reading 20 articles this month* Join now for unlimited access
Enjoy your first month for just £1 / $1 / €1
*Read 5 free articles per month without a subscription
Join now for unlimited access
Try first month for just £1 / $1 / €1
Get The Leadout Newsletter
The latest race content, interviews, features, reviews and expert buying guides, direct to your inbox!
Sports journalist Lionel Birnie has written professionally for Sunday Times, Procycling and of course Cycling Weekly. He is also an author, publisher, and co-founder of The Cycling Podcast. His first experience covering the Tour de France came in 1999, and he has presented The Cycling Podcast with Richard Moore and Daniel Friebe since 2013. He founded Peloton Publishing in 2010 and has ghostwritten and published the autobiography of Sean Kelly, as well as a number of other sports icons.