CUMMINGS: "IT'S FANTASTIC TO HAVE WON A RACE"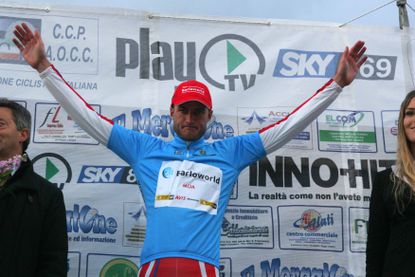 Steve Cummings celebrated his stage win in the Giro di Calabria with a few glasses of champagne with his Barloworld team mates on Tuesday but is determined to defend his blue leader?s jersey in Wednesday's final stage and seal overall victory.
Cummings had a difficult winter and missed three weeks of vital training in January because of a knee problem. He admitted to Cycling Weekly that the problems had knocked his confidence and affected his chances of getting into the track squad for the world championships in Manchester in March. However, his first ever win as professional has now boosted his moral and got him back on track.
?It?s fantastic to have finally won a pro race. I?m really happy,? he told Cycling Weekly.
?Often you go hard and ride well but get nothing for it. I?ve had a lot of placings and ?could have but?? situations, so it?s nice to finally get the chance to take an opportunity. I learned a lot while riding for Discovery Channel last year but I was always riding for someone else. At Barloworld I?ve got more freedom in races and it?s great to quickly show I can do something.?
?I?ve had about 30 text messages from friends and that?s really nice. Some of them simply congratulated me on my win and others were teasing me saying ?About time??
?Hopefully this win is something to build on. I feel I?m a smarter bike rider now. I feel stronger and can go all day. I?m not in bad shape despite my problems but I know I can get a lot fitter. I hope this is a boost for the next few weeks so that I can be right for the track worlds training and so earn a place in the team for Manchester.?
Cummings was under orders to protect team sprinter Baden Cooke in the finale of the stage but went with an attack and then rode perfectly.
?I followed some moves to protect Baden but then I was in a group of about six riders that got across to another group of 15 and we stayed away,? he explains.
?There were three LPR riders and three from Acqua & Sapone and they kept attacking but I just sat on as the numbers whittled down. There was a climb up to the finish and I had a dig with about three kilometres to go but I was pulled back.?
?There was only six of us left at that point and so I went for it three hundred metres out to make sure I was first through the chicane-like finish. I knew I could take the best line and hold off the others. I can go high power for three hundred yards and so it was a mix of a long sprint and a powerful burst. Of course, to win like that you?ve got to have the legs to go for it."
Wednesday?s final 168km stage is from Chiaravalle to Reggio Calabria is hilly but Cummings and Barloworld are determined to defend his four-second lead on nearest rival Daniele Pietropolli (LPR).
?They reckon the final stage is the hardest of the whole race with lots of little climbs and an uphill finish. It won?t be easy to control everybody but hopefully we?re going to try and let a move go clear. It?d be perfect if four or five riders went away and won the stage so that we can mark my closest rivals.?
There will be a full report on the final stage here on www.cyclingweekly.com as soon as the race ends.
RELATED LINKS
Cummings wins in Calabria
Thank you for reading 20 articles this month* Join now for unlimited access
Enjoy your first month for just £1 / $1 / €1
*Read 5 free articles per month without a subscription
Join now for unlimited access
Try first month for just £1 / $1 / €1