CW '08 READER POLL: VOTE NOW!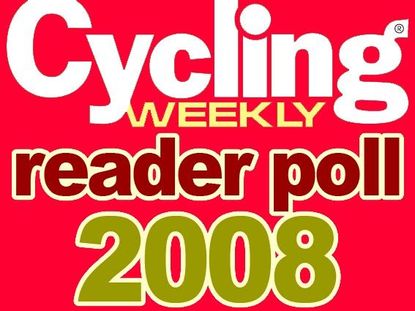 VOTING HAS NOW CLOSED FOR THE 2008 READER POLL
For British fans, this year has been one of the most memorable years for cycling in the sport's long history.
Mark Cavendish, Chris Hoy, Victoria Pendleton, Bradley Wiggins and many other British cyclists are now household names thanks to their stunning achievements.
We've also had some exciting races: from the Classics to the Olympic Games in Beijing. But which is your favourite? We're looking for your opinion on the most impressive riders, races, cyclo-sportive, products, heroes and villains of 2008.
Full results will be published in our super-size December 18 issue of Cycling Weekly.
Click here to go to the 2008 reader poll.
Everyone who votes will automatically be entered into a draw to win an official 2008 Tour de France DVD box set, comprising two DVDs covering four hours of highlights from this year?s race and worth £35.
This year's categories are:
RACING
Most exciting British race of 2008
Most exciting stage race of 2008
Most exciting one-day race of 2008
Most exciting time trial of 2008
Most exciting track event of 2008
Most exciting race (overall) of 2008
SPORTIVE
Favourite cyclo-sportive event (British)
Favourite cyclo-sportive event (international)
RIDERS
Most impressive British rider of 2008
Most impressive road rider of 2008
Most impressive time trial rider of 2008
Most impressive track rider of 2008
Most impressive young rider of 2008
Most impressive team of 2008
Most impressive rider (overall) of 2008
TECH
Best bike of 2008
Best component of 2008
Best innovation of 2008
Best team kit of 2008
MISC
Hero of the year 2008
Villain of the year 2008
Best Cycling Weekly cover/story of 2008
RELATED LINK
Take part in the 2008 reader poll>>
Cycling Weekly reader poll 2007 results
Thank you for reading 5 articles this month* Join now for unlimited access
Enjoy your first month for just £1 / $1 / €1
*Read 5 free articles per month without a subscription
Join now for unlimited access
Try first month for just £1 / $1 / €1