Cycle rail facilities set for £15m investment
Transport Minister announces funding in aim to get more people using cycle-rail facilities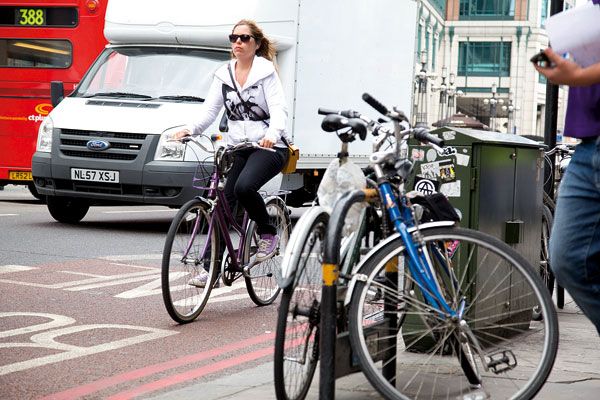 British railway stations are set to receive £15m investment for cycle facilities from the government, Transport Minister Baroness Kramer announced today.
The announcement came as Baroness Kramer opened the brand new £850,000 Sheffield Cycle Hub, while the news also comes on the eve of the 2014 Tour de France Grand Depart in Yorkshire.
The prospective enhancements  are due to provide commuters and travellers better bike parking facilities, among other things, to encourage use of both cycle and rail transport in an aim to reduce pollution and road congestion.
Of the new investment, Baroness Kramer said:
"When people take rail journeys they need to know how they will get to and from the station.
"We are transforming cycling facilities at stations up and down the country to make it easier to choose the bike for the journey to the station. That is why we are providing £15 million of new funding to help deliver this vision.
"Used together, bike and rail can help cut carbon and congestion, delivering environmental and economic benefits. Sheffield's cycle hub is a great example of this principle in action, and I hope it provides an example for others to follow."
The National Cycling Charity, the CTC, while welcoming the investment to cycle-rail have been critical of how realistic the sum of money will prove in making any substantial change, saying in a statement:
"The government announcement suggests that the funding comes on top of the government's existing £374 million in cycling. However, that funding - nearly all of which runs out in April 2015 – falls far short of the £10-20 per head, per year which the Get Britain Cycling report said was necessary to secure substantial increases in cycling of 10 per cent of trips by 2025, up from the current 2% of trips."
"It remains to be seen whether the forthcoming Cycling Delivery Plan – announced in August last year – will set out how this challenging funding can be secured. The strides made on cycle rail are themselves testament to the need for long-term, sustained funding for cycling projects. While £15m for cycle-rail is welcome, to change the tens of thousands of miles of the road network that are unfit for cycling will require a far greater scale of investment."
Richard began working with Cycling Weekly in 2013 alongside the then web editor, Nigel Wynn. Taking over as digital editor or Cycling Weekly and mbr in 2014, Richard coordinates site content and strategy with the team.