The cycling items you should never skimp on paying for
'Buy cheap, pay twice' they say - and there are some items in cycling where saving money may cost you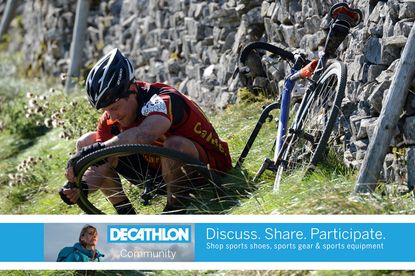 We all love a bargain, and there are plenty of genuine ones out there... but sometimes buying the cheapest option just isn't worth the money. This is certainly true in some areas of cycling, where poorly-made goods can lead to actual bodily harm.
We recently asked Cycling Weekly readers what they considered to be something that you shouldn't skimp on. Here are a selection of answers, brought to you in association with Decathlon (opens in new tab).
What cycling item do you think should never been skimped on? Let us know in the comment box below
Bibshorts and helmet. Budget bibshorts are pretty horrific, and get you some really weird looks getting dressed in the gym changing rooms, but buying a cheap helmet could kill you.
Samuel Vaughan
Saddle for sure. The wrong saddle and you won't walk right for a while.
Joy Hope
Handlebar tape. Laying your hands on something comfortable makes any ride much more pleasant. I'm a double wrapper.
Roger Eaves
Tyres, tyres, tyres. I have commuted 2,000+ miles in the last year and a half, and getting decent puncture-proof tyres has changed my commute. Manchester roads are a state with potholes everywhere. Glass, nails and other objects were causing sometimes two punctures a week. I got some Schwalbe tyres with their highest protection and I've not had a puncture for several months.
Jamie Bassnett
Chain. Not replacing regularly enough and not only does it have large efficiency downsides, it will pretty quickly cost you a fortune in wrecked cassettes and chainrings... and possibly much worse if it slips when changing gear out of the saddle and throws you over the bars.
Paul Oz
So many things, but if I only chose one it would be glasses. I wear Oakley and wouldn't dream of going on the bike without them. Protects eyes from everything: dust, stones, rain, wind, insects, etc.
Stuart Hamilton
>>> Has a bike ride ever changed your life?
I would say cycling shoes, including getting a fitting. Shims, cleats, and shoes together can not only facilitate performance, but can also prevent long-term injury through unbalanced muscle recruitment and joints moving in the wrong plane of motion.
Mark Harrison
The gift to your partner because you love them (but really you are building up credit for those important and essential weekends away training for the Etape du tour/LEJOG/another important ride*). Delete as appropriate.
Ben Merrills
After being caught 20 miles from home with a puncture I would say a good pump. Not the rubbish cheap one I had with me the broke on the first go. Without air in the tyres, all else is pointless.
Nigel Perry
The flapjack (or other cake if it takes your fancy) and coffee at the end of the ride.
Shaun Kirby
A decent bike mechanic who looks after your bike the way you like it, so you spend more time riding.
Mike Gough
A subscription to Cycling Weekly, I think is the answer you're looking for.
Neil Jackman
Jacket. I've wasted lots of money in the last few years until I purchased a Castelli Gabba, worth every penny. In horrible weather I'm still warm and dry.
Simon Bott
Thank you for reading 10 articles this month* Join now for unlimited access
Enjoy your first month for just £1 / $1 / €1
*Read 5 free articles per month without a subscription
Join now for unlimited access
Try first month for just £1 / $1 / €1