Cyclist penned open letter over close-passing dangers just days before he was killed on the roads
The campaigner had written about the dangers of close passing by drivers and lack of enforcement by police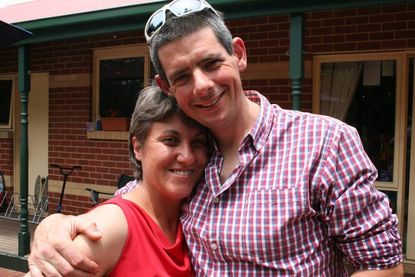 A cycling campaigner has died on the roads just days after he wrote a letter about the dangers bike riders face.
Australian Cameron Frewer died after he was hit by a driver on Monday evening.
The prolific cycling safety activist had written an open later just days before his death, saying he "valued his life" and sharing his frustration with police.
Mr Frewer, 44, wrote: "I am a father of three, a husband, someone who rides a bicycle on occasion, as well as a driver and motorcyclist.
"I ride alone and at times that avoid rush hour traffic. I stop at red lights, ride as far left as practicable, and do the best I can to keep myself safe on the roads.""
"I don't shave my legs, I use flashing front and rear lights and wear cycling gear that always carries a 'safe passing' message.
"I am hardly the 'stereotypical' lycra lout, but I do value my life and I value a law and process that encourages people to use bikes for whatever reason."
>>> How you can use Zwift to support Adrien Costa after leg amputation
Mr Frewer died after reportedly being struck by a "ute" – or pick-up truck – according to Australian outlet news.com.au. (opens in new tab)
Paramedics were called to the scene of the crash in Queensland but were unable to save Mr Frewer.
Police have spoken to the driver but no charges have been brought.
Earlier this year, Mr Frewer helped launched an anti-close pass campaign called Safe Pass, Drive Wide.
In his open letter, addressed to Australian cycling organisations, Mr Frewer voiced his frustration with police and drivers who pass too close to cyclists.
>>> Dangers of close passing and advice on 'Dutch reach' will be added to Highway Code
He wrote: "The question I often ask myself is 'will bicycles ever be considered vehicles by those entrusted with upholding the state's road laws?' Or will the excuses for poor driving, victim blaming and irrelevant comments continue?
"Without a strong and cohesive system that helps acknowledge vulnerable road users as such, there is very little incentive for the average person to take up riding for whatever reason.
"More people riding, more often will only by encouraged when those entrusted with upholding the laws start doing so."
A fundraising page has been set up to support the Frewer family.
The page says: "Cameron was a beloved husband and loving father to his wife Catherine and his three children Lachlan, Oscar and Heidi.
"Cameron has been described as the most generous person in every aspect of his life, with both his heart and his time.
"His family was his life and Cameron was an avid cyclist and enjoyed riding together as a family."
You can view the fundraising page (opens in new tab) for his faimly here.
The gofundme page has raised $17,000 (£13,000) in three days.
Thank you for reading 10 articles this month* Join now for unlimited access
Enjoy your first month for just £1 / $1 / €1
*Read 5 free articles per month without a subscription
Join now for unlimited access
Try first month for just £1 / $1 / €1