Dangers of close passing and advice on 'Dutch reach' will be added to Highway Code
Cycling campaigners including Chris Boardman have welcomed the news that guidance for drivers will be updated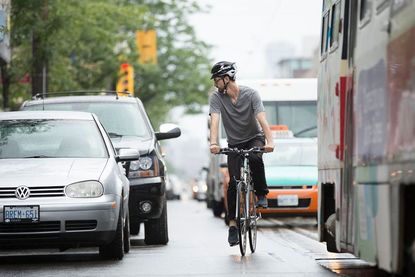 (Image credit: Toronto Star via Getty Images)
The Highway Code will be updated in an attempt to improve the safety of cyclists and pedestrians, with warnings about the dangers of close passing and advice on the 'Dutch reach'.
Cycling campaigners including Tour de France stage winner Chris Boardman have welcomed the progress after the Department for Transport announced the changes on Thursday morning.
Cycling and walking minister Jesse Norman said: "Britain has some of the safest roads in the world, but we need them to be safer still for all – and particularly for cyclists, pedestrians and other vulnerable road users.
"Cycling and walking are increasingly being understood as crucial parts of an integrated approach to issues of health, obesity, air quality and town and city planning.
"But this will only happen if people feel safe on the roads."
>>> Cyclists branded 'dangerous and selfish' by councillor as bikes banned from city centre
The government will review guidance on how road users should behave around cyclists and pedestrians in order to reduce the number of deaths.
A new updated Highway Code will warn road users of the dangers of close passing cyclists and encourage drivers to use the Dutch reach when exiting vehicles to avoid hitting passing cyclists.
The Dutch reach involves opening car doors with the hand furthest from the door handle, so drivers or passengers look over their shoulder to check for passing traffic.
Government statistics show that 101 cyclists died in 2017 in road traffic collisions, prompting a review of road safety.
Some police forces across the country have been targeting drivers who pass too close to cyclists.
Chris Boardman said: "We are pleased to see that the transport minister is now considering taking steps to bring us in line with the rest of the world and protect people walking and riding bikes where they need it most.
"I look forward to seeing the new edition of the Highways Code and I sincerely hope it contains this important amendment."
He added: "There are currently over a dozen different and often conflicting rules in the Highway Code which relate to people walking and cycling at junctions, so it is really no surprise that they continue to be the most dangerous places on our roads."
The Department for Transport is also publishing and updated cycling training manual with the latest information on safe cycling.
This news comes as Highways England also announced a £3million contract with cycling and walking charity Sustrans to help improve the neglected National Cycle Network.
Cycling UK's head of campaigns, Duncan Dollimore, said: "Close overtakes and people opening car doors in front of cyclists are not only dangerous, they also put people off riding a bike.
"That's why Cycling UK has been campaigning for changes to the Highway Code rules for many years, to make the requirements to give enough space when overtaking a cyclists, wait if you can't, and look before you open your car door is crystal clear."
Thank you for reading 5 articles this month* Join now for unlimited access
Enjoy your first month for just £1 / $1 / €1
*Read 5 free articles per month without a subscription
Join now for unlimited access
Try first month for just £1 / $1 / €1