Cyclists branded 'dangerous and selfish' by councillor as bikes banned from city centre
The cabinet member for highways also called Deliveroo riders 'idiots'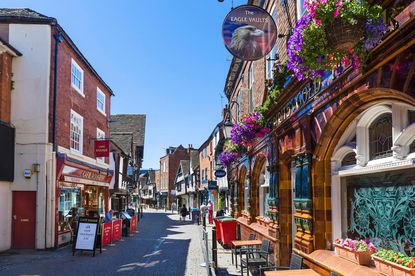 (Image credit: Alamy Stock Photo)
A county councillor has branded cyclists "dangerous and selfish" while supporting a plan to ban bikes from pedestrian areas.
Cyclists will be banned from Worcester city centre in a move that has been welcomed by Worcestershire Country Council cabinet member for highways Councillor Alan Amos, reports Worcester News.
The councillor said the ban is needed as "it is only a matter of time before somebody is going to get injured or even killed."
Cllr Amos, who is described as "outspoken", told Worcester News: "We need to stop the increasing number of dangerous and selfish cyclists – including Deliveroo idiots – speeding through streets full of pedestrians.
"If we don't stop them, then it is only a matter of time before somebody is going to get injured or even killed, as happened in Hereford recently."
>>> Decathlon recalls its B'Fold 500 and B'Fold 700 folding bikes
Cyclists will no longer be allowed to ride through the pedestrianised areas of Worcester city centre between 10.30am and 4.30pm.
Cllr Amos said cyclists and pedestrians do not safely mix and that people on foot should be free from fear of being injured by people on bikes.
He added that cyclists will have to get off and walk.
New signs will be put up in the city centre, warning cyclists not to ride through certain areas.
Action against anyone breaking the rules will be left up to the police, but city council enforcement officers will instruct riders to dismount and feed information to police.
Earlier this year, Cycling Weekly reported that cyclists were due to be banned from pedestrian areas of Prague to improve safety, while cars continue to use the streets.
The cycling ban would apply to a number of pedestrianised zones in the centre of the Czech capital between 10am and 5pm, while more than 1,000 cars which currently have permits to enter the pedestrianised zones will be able to continue to drive through the historic centre of the city.
In July the ban was overturned following a legal challenge from cycling activists.
Thank you for reading 20 articles this month* Join now for unlimited access
Enjoy your first month for just £1 / $1 / €1
*Read 5 free articles per month without a subscription
Join now for unlimited access
Try first month for just £1 / $1 / €1