'Dangerous' cyclist fined after crash that broke his arm
Thomas Thompson broke his arm when he crashed into a taxi while cycling the wrong way down a one-way street in Carlisle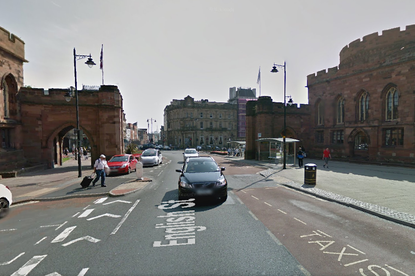 It went from bad to worse for the cyclist who broke his arm after hitting a taxi while cycling the wrong way down a one-way street, when he was ordered to pay a £165 court bill.
Thomas Thompson, from Carlisle, pleaded guilty to the charge of dangerous cycling for the incident that occurred on July 22, 2014.
Thompson was cycling the wrong way down English Street at some speed, according to the Cumberland News, when he struck the taxi.
The paper reports that Thompson had only just bought the £990 mountain bike when the incident occurred; he went over his handlebars and fractured his arm on the vehicle.
"I've never had an accident [in ten years of riding]," Thompson said. "I was crossing English street, and I didn't use the crossing. It was careless rather than dangerous.
"I broke my arm in three places, have a seven inch scar on my arm, a scar on my lip and one on my eye brow, and I lost a tooth and I also lost my job as a bricklayer."
Thompson was fined £60 for dangerous cycling, £85 costs and a £20 surcharge.
Thank you for reading 20 articles this month* Join now for unlimited access
Enjoy your first month for just £1 / $1 / €1
*Read 5 free articles per month without a subscription
Join now for unlimited access
Try first month for just £1 / $1 / €1